more news
Alumni are on the forefront of online journalism
Monday, August 15, 2011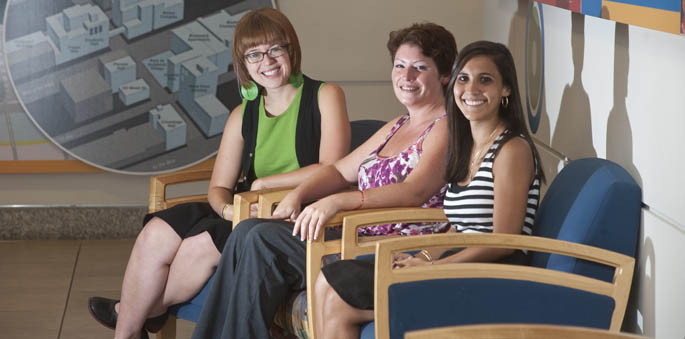 Seated from left, Stephanie Rex, Amanda Gillooly and Heidi Dezayas.
The latest trend in journalism is "hyperlocal," and three School of Communication alumni are on the forefront of this movement.
Amanda Gillooly, Stephanie Rex and Heidi Dezayas are local editors for Patch, a network of hyperlocal news websites owned by AOL. There are more than 800 sites nationwide, with at least a dozen in the Pittsburgh area.
"Patch is a part of the change in journalism," says Rex, a 2007 journalism graduate who heads up the Forest Hills-Regent Square site. "I can't even describe how exciting it is to be a part of that. Journalism is so not dying. This is just the beginning."
In contrast to daily newspapers, which cover a wider area, each Patch site focuses solely on news and events going on in an individual neighborhood or community.
"Patch is like traditional journalism in the sense that we are professionals delivering quality, accurate and local news," says Dezayas, editor of Plum-Oakmont Patch. "However, we're different because we accept all forms of news. If it's happening in the community, it's worthwhile to us. That's not always the case in traditional journalism."
Patch doesn't have traditional offices but provides each editor with a Mac laptop, iPhone, camera, printer and freelance budget so they can work remotely in their community.
"I'm out in the community every day, talking to neighbors, business owners, local leaders and pretty much everyone to always have a pulse on what's happening," says Rex, who won a Golden Quill Award for Best Writing Online this year for her Patch story, "A Very Creepy Christmas at Trundle Manor."
Gillooly, 2002 journalism grad and editor of Canon-McMillan Patch, adds, "I love that every day is different. One day I will be following a court case, and the next day I will be covering a community event."
Covering such a diverse range of stories means the editors need to know how to do a little bit of everything, and Dezayas, Gillooly and Rex are putting their previous experience to good use.
Gillooly has been on the staff of the Observer-Reporter, Beaver County Times and The Valley Independent. While at Point Park, she was longtime editor of The Globe and worked for the Innocence Institute.
"My favorite (Point Park) experience by far was my work with Bill Moushey and The Innocence Institute of Point Park University," Gillooly says. "The work he does is outstanding, and I was so honored just to learn from him and work with him."
She also continued to do work for the Innocence Institute, and in 2011, was a finalist for the prestigious Tom Renner Award for an investigative piece she co-wrote for the institute's magazine, Justice.
Dezayas, a 2007 broadcasting graduate who landed a job with Gateway Newspapers/Trib Total Media after graduation, credits the School of Communication's all-encompassing curriculum with teaching her skills in many disciplines.
"Though we had our own majors, we were required to learn about all aspects of communication - TV, print, news, PR, advertising, publishing, digital editing," Dezayas says. "I got a degree in broadcast journalism but had enough experience under my belt to land a job in print journalism right out of school."
Rex, who was a reporter for the Butler Eagle before joining Patch, says working for Point Park's student newspaper was a great experience.