more news
Alumni Profile: Eric Davidow, Production Technician at Fox CT
Friday, July 13, 2012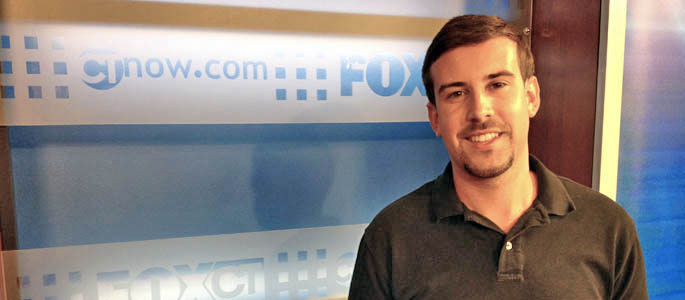 Meet Eric Davidow
Major and degree earned: B.A. in broadcasting
Minor: Psychology
Graduation year: 2009
Job title/current employer: Production Technician at Fox CT
Hometown: Southington, Conn.
Now living in: Southington, Conn.
Why did you choose to attend Point Park's School of Communication?
One of the factors that influenced my decision to attend Point Park's School of Communication was knowing that I would have access to train in and use state-of-the-art facilities and equipment. Having that hands-on experience as a student prepared me for internship and professional opportunities. Internships are so valuable and a great resume builder. I also liked that the campus is within walking distance to some of the most recognized newsrooms in the country, like the Pittsburgh Post-Gazette and KDKA. There's also sports media to get involved with like the Pittsburgh Steelers, Pirates and Penguins.
Did Point Park's Downtown Pittsburgh location play a role in your decision to attend the university?
Point Park played a big role in revitalizing the city for young people to thrive in the Downtown community. Our campus is very close to many great restaurants, theaters, clubs, parks, museums, sports arenas and church communities. It's only minutes away from the Pittsburgh Film Commission, which is a great resource to learn more about opportunities in the field. It was there that I connected with key people in the industry, working on a team filming a TV show for Spike TV and three feature films.
What was your favorite class?
My favorite and most challenging class was broadcast editing because it encouraged you to stretch your imagination to the limit. I not only sharpened my writing and editing skills, but also discovered a hidden passion. I always knew I wanted to study broadcast news, but my work in creating a commercial and music video for this class uncovered my interest in filming music entertainment television.
How have you incorporated the skills you learned at Point Park into your career?
I use the skills I learned at Point Park in my job every day. I learned how to be a team player working as part of a small production team. I had a solid foundation for what I could achieve in the industry, and because of that I push myself to work harder every day to learn more about audio design and live studio production.
What are some of your responsibilities as a Production Technician?
During a newscast I can be found working on studio lighting, floor managing, operating mobile/stationary cameras or running audio boards. I'm also responsible for the daily maintenance of all wireless microphones used by studio clients, talent and station promotions.
What advice do you have for prospective students?
Get involved in all of the opportunities Point Park offers. Join clubs related to your major because you might uncover hidden talents. As a member of College Students in Broadcasting, I visited newsrooms in Chicago and Washington, D.C., where I met one of the most acclaimed broadcast talents, Bob Schieffer. Lastly, I can't stress the importance of internships, study abroad programs and student trips that the School of Communication has to offer. I traveled to England my junior year and it was such an amazing learning experience.
Photo provided by Fox CT
More About: broadcast reporting, alumni, KDKA, U-View, School of Communication