more news
Alumni Profile: Meet Sarafina Brooks, Multimedia Journalist at WTOV-TV
Tuesday, November 25, 2014


Meet Sarafina M. Brooks
Degree earned: B.A. in broadcast reporting, 2013
Job title and employer: Multimedia Journalist, WTOV-TV
Hometown: Pittsburgh, Pa.
Now living in: Pittsburgh, Pa.
High School: Penn Hills High School
College activities: U-View, The Globe, orientation leader, technical production staff for Point Park's television studio and a clerical assistant for the education department
Hobbies/interests: Jazz violin
Twitter: @Sarafinawtov9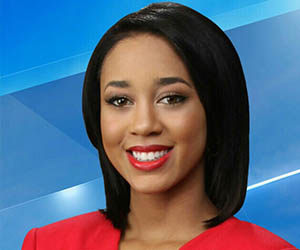 Why did you choose Point Park?
I chose Point Park University because I wanted a career-specific education. I also wanted to be mentored and taught by instructors who knew my chosen field firsthand.
When I toured Point Park's campus for the first time, I was impressed by the number of instructors that are real-world professionals and I also couldn't wait to work in the state-of-the-art television studio - I was sold!
I knew Point Park would be the best match for me and the instructors would help me find my niche. My experience at Point Park University was invaluable.
Please list your internship experiences.
I also had the opportunity to work as a videographer and reporter on the NFL Kickoff concert in 2009. My most memorable experience that day was when I interviewed the Black Eyed Peas, Tim McGraw and Robin Roberts.
What was it like going to school in Downtown Pittsburgh?
Going to school and living in Downtown Pittsburgh was by far the best four years of my life. I know that sounds cliché, but it's true. Living in Downtown Pittsburgh was so exciting; I was always in the middle of entertainment, shopping and the occasional news story. Going to school in Downtown Pittsburgh was unique because of its urban setting and also because I could walk to my internships.
What is one of your favorite memories as a college student?
Where do I begin? Aside from receiving a great education, I met friends that have changed my life and in turn have made me happier, more compassionate and more cultured. I went on countless adventures with the friends I made, and to this day we all make a point of meeting up or vacationing when our busy schedules allow us to get together. I could almost cry when I think about how much my college friends mean to me and how much I miss them.
How did the education and training you received at Point Park prepare you for your career?
Point Park University was absolutely the catalyst to my career as a television reporter. The education and training I received was top notch and made me stand out when it came time for me to apply to jobs. Employers were always impressed with the skills listed on my resume and would share with me that they knew that Point Park has a great journalism program. My training at Point Park University allowed me to confidently enter the work force. Upon graduation I was excited to share with the world what I had learned at Point Park University.
What are your career goals?
I'm thrilled to be a reporter at WTOV. In the long run I would like to be a producer for a network show (The Today Show or Good Morning America). I would also like to be a reporter in a top 10 market and have a segment where I focus on women's health.
More About: KDKA, education, Downtown Pittsburgh, internships, broadcast reporting, success story, The Globe, U-View