more news
Author and Photojournalist Alysia Burton Steele Discusses 'Delta Jewels' at Point Park
Tuesday, November 24, 2015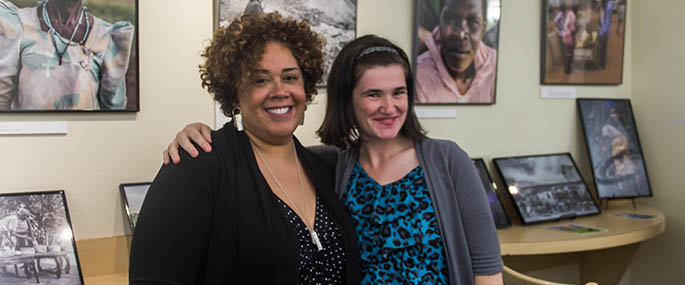 Photography and photojournalism students who attended the Allegheny Journalism Conference last spring were in the right place at the right time. It was here that they met one of the presenters - Alysia Burton Steele - a professor of photojournalism at the University of Mississippi.
Photo Gallery
---
Learn More
"At the conference, Alysia became friends with one of my students, Liz Berie, and expressed interest in visiting campus to talk about her recent book and multimedia project Delta Jewels," said Christopher Rolinson, associate professor of photography and photojournalism. "This is proof of how networking works."
During the fall semester, Steele came to Point Park to present photographic, auditory and documentary works from Delta Jewels, which chronicles the church mothers of the Delta, a term of respect and homage in black Christianity.
For more than nine months, Steele captured photos and memories of 55 church mothers, pairing that number down slightly for her book. Her project was the subject of an Aug. 29, 2014, 'On Religion' column in the New York Times.
"The key message I took away from Alysia's presentation is that nobody lives forever, and we should be taking pictures of the people who mean the most to us," said Berie, a senior photography major, who introduced Steele during the on-campus event.
Junior photojournalism major Shayna Mendez said meeting Steele was a humbling experience.

"Alysia shared stories and challenges she faced as a college student, some of which most of us could relate to," said Mendez. "She encouraged us to always be prepared for a story and to work hard to reach our goals."
While on campus, Steele met with students to review their portfolios.

"This turned out to be a really great event based on the simple relationship we formed with her at a conference," said Rolinson. "Our students gained new perspectives, were given new ideas and benefited from the time she spent reviewing their portfolios."
Photos by photography major Liz Berie and photojournalism major Shayna Mendez
More About: photography, School of Communication, multimedia, photojournalism, guest artists