more news
Broadcast Legend Mike "Doc" Emrick Encourages Students to Chase their Dreams
Thursday, November 10, 2016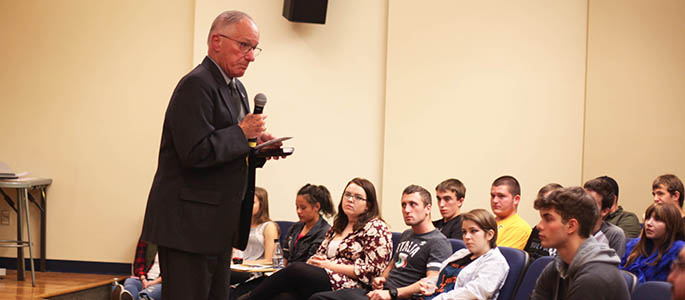 Mike "Doc" Emrick - lead play-by-play announcer for the National Hockey League - encouraged Point Park University students to chase their dreams during his visit to campus Nov. 3.
"If one person learns not to give up and be confident of their abilities to do what they really want to do in their career as a result of me being here, I'll be coming back," Emrick said. "That's part of paying it forward."
The Pittsburgh Center for Sports Media and Marketing hosted Emrick in the JVH Auditorium, where he took questions from the standing room-only crowd of students, faculty and staff. Additionally, he spoke to classes in Point Park's Center for Media Innovation.

"Point Park University brings in amazing professionals - like Doc - on a regular basis," said Hailie Sandor, a junior sports, arts and entertainment major from Seneca Valley High School. "Meeting someone who has done so well in their career is a reminder that you can do it someday, too."
Emrick's key message to students: never give up.
"It's like loving a person in life that's high maintenance," he said. "There's a lot that can be difficult, but you still love them or you love the job, and any setbacks don't mean that much if you still have a love for it."

Kelsey Veydt, M.B.A. student and the center's graduate assistant from Canon-McMillan High School, said that Doc helped to reiterate an important life lesson.

"Doc's reminder that we can do anything we set our mind to was so inspiring," she said. "He is the perfect example of how not only working hard leads to success, but how far being humble will take you in life."

Reporting contributed by Josh Croup, junior broadcast reporting major
Photo by Olivia Ruk, senior mass communication major
More About: Pittsburgh Penguins, Canon-McMillan High School, Rowland School of Business, Seneca Valley High School, student workshop, Center for Sports Media and Marketing, School of Communication, sports, arts and entertainment management, broadcast reporting, sports communication