more news
Broadcast Major Josh Croup Gains Real-World Experience Interning with Pittsburgh Pirates
Tuesday, June 14, 2016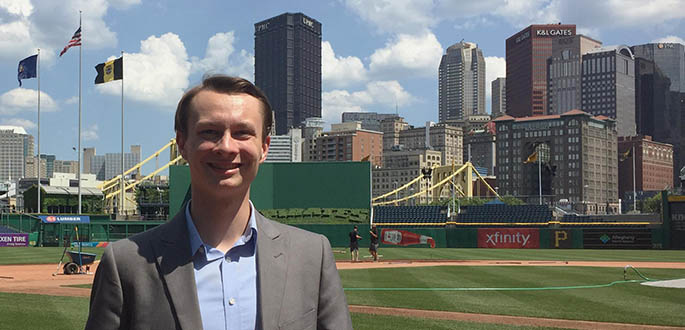 Meet Josh Croup
Internship: Media/Public Relations Intern, Pittsburgh Pirates
Major: Broadcast Reporting
Expected graduation: May 2018
College activities: The Globe, Point Park Athletic Communications, Pittsburgh Center for Sports Media and Marketing, Student Production Services, Point Park Sports Network, Society of Professional Journalists, U-View, WPPJ and the Honors Program
Scholarships from Point Park: Vice Presidential, Myron Cope and Margy Snyder Memorial
Hometown: Butler, Pa.
High school: Butler High School
Hobbies/interests: I was an All-State percussionist in high school and a drum major in the Butler Golden Tornado Marching Band. I continue to play in the percussion section of the Musicians' Concert Band in Butler during the summer. Additionally, I play on my church's softball team, enjoy running, exploring the city and spending my free time cheering on the Pittsburgh sports teams.
LinkedIn: Josh Croup
Twitter: @JoshCroup
Tell us about the hands-on opportunities you have as an intern for the Pirates.
The media/public relations interns work at all of the Pirates home games. Before the game, we make sure the press box is set up for the media and write any credentials for members of the media who are attending the game. We print and distribute game notes, stat packs and lineup sheets to Clint Hurdle and the Pirates coaching staff, the visiting manager and coaches, video trucks, broadcasters and other media.
During the game, we communicate with our play-by-play broadcasters, social media staff and video trucks to relay in-game information. We are constantly looking up stats and information for use in the broadcast, and I have to admit that is my favorite part of the internship. I've always been a fan of random baseball stats and numbers, and now I get paid to research stats for our broadcasters to use during games and for our game notes. It's really cool.
After the game, we distribute the final box scores and stats to the media and the visiting team's PR department.
How has your Point Park experience helped you excel in this internship?
My involvement outside the classroom at Point Park has prepared me for this internship more than anything. I was able to get my feet wet behind the scenes in sports as an apprentice in Point Park's athletic communications department. My internship requires a lot of writing, editing and work in Adobe InDesign, and I have had a lot of experience in these areas as editor-in-chief of The Globe.

Point Park has taught me to be thorough in my work and check everything twice. Whether it is an important news story for The Globe or a stat on one of our athletes, double sourcing and ensuring accuracy has always been stressed to me at Point Park. I double check every stat I send to our broadcasters and to the media, and am very careful with everything I write and research for the Pirates.
What do you enjoy most about being a student at Point Park?
I love Downtown Pittsburgh and everything it has to offer. Point Park is in the middle of everything - restaurants, sports teams, arts and culture - Pittsburgh has it all. If there isn't something going on Downtown, there are always places to explore. Pittsburgh is such a livable and walkable city. Whether it's the North Shore, Point State Park or the Cultural District, there are so many cool and relaxing places to explore.
What are your career goals?
I've always wanted to be a journalist or a broadcaster, but I am really enjoying the media/PR side of the industry. At this point, I am trying to gain as much experience as possible at Point Park to prepare me for my career. I don't want to limit myself in my career, so I want to do as much as possible on and off campus to make myself more marketable.
Is there anything else you would like to add?
I wouldn't be with the Pirates if I didn't get involved with Point Park's Pittsburgh Center for Sports Media and Marketing. As a member of the group, I had the chance to attend the Baseball Winter Meetings during my freshman year. It was there that I landed a video production internship with the West Virginia Power, the Class-A affiliate of the Pirates. I got my foot in the door of the baseball industry and had a great experience working in minor league baseball.

Photo by Kelsey Veydt, M.B.A. student
More About: The Globe, internships, Pittsburgh Pirates, broadcast reporting, scholarships, Honors Program, U-View, WPPJ, Butler Area High School, Center for Sports Media and Marketing