more news
Broadcasting Alumna Sarah Pisciuneri is an Evening Anchor at WVNS-TV
Wednesday, September 11, 2013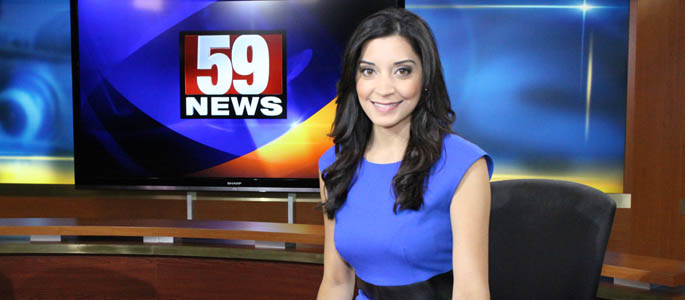 Meet Sarah Pisciuneri
Job title: Weekday evening anchor, WVNS-TV in Beckley, W.V.
Degree earned: B.A. in broadcasting reporting, 2009
Hometown: Poland, Ohio
Now living in: Beckley, W.V.
High School: Poland Seminary High School
College activities: Member of College Students in Broadcasting, various positions contributing to U-View, worked as a media assistant for the Point Park University TV studio.
Hobbies/interests: Photography, watching films and documentaries, checking out new restaurants, rooting for any Pittsburgh Sports team and hanging out with family and friends.
Why did you choose to attend Point Park for broadcasting reporting?
I chose Point Park because of the practical classes and state-of-the-art TV studio. Learning and working in the studio, and using industry standard cameras and editing programs daily, gave me an edge entering the job market.
Discuss any internship opportunities you had as a student.
My first internship in news was near my hometown in Ohio at WKBN-TV. This was a great way to get a feel for what working in a small market is like. My second internship was at the assignment desk for NY1 News, a Time Warner Cable company in New York City. This was truly the best learning experience outside of Point Park. I got to learn from some of the very best news reporters, photographers, assignment editors and producers in the industry. This is also where I landed my first job as a news assistant at NY1 News!
How did the education and training you received at Point Park prepare you for your career?
Point Park gave me the tools I needed to land that first job. Working in the field or in a studio wasn't foreign to me when I started working. At each of my jobs, I've been able to jump right in and learn quickly.
What's a typical day like for you?
Right now a typical work day starts for me around 2:30 p.m. It consists mostly of being on camera. I still do plenty of writing as an anchor, and can help reporters with their stories, as well as contribute to our website and social media accounts. One of the best parts of my job is connecting with our audience at public appearances.
What advice do you have for a prospective college student?
If you're ready to start learning and honing your skills in a real-world setting right away, Point Park is it. At the same time, it is what you make of it. You can take what you learn and your imagination as far as you want.
What are your career goals?
My ultimate career goal is to do what I'm doing now, just on a larger scale. I've always believed the sky is the limit. My education and work experiences up to this point have taught me that working in a top 10 market or even on a national level is possible.
More About: internships, success story, U-View, broadcast reporting, alumni