more news
Center for Media Innovation: A Learning Hub for Students to Hone Skills for their Future
Friday, September 22, 2017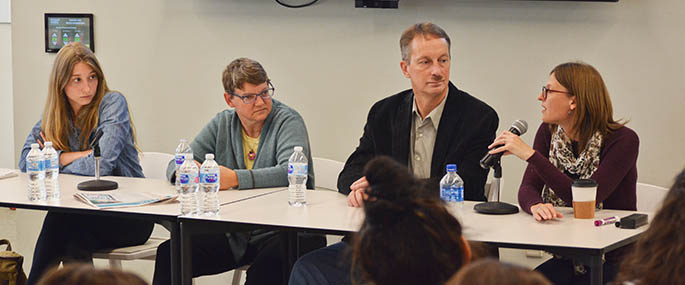 In its second year of operation, Point Park University's state-of-the-art Center for Media Innovation continues to provide hands-on experience and networking opportunities for students, as well as serve as a hub for local media and the Downtown Pittsburgh community.
Point Park marked the first anniversary of the CMI with a plaque unveiling - honoring the late Richard M. Scaife, founder of The Allegheny Foundation, which donated $2.5 million to build the CMI - followed by two #MediaPioneers panel events Sept. 12.
"The highlight of the last year was to see Point Park students take over this space," said Andrew Conte, director of the CMI.

He added: "We are going to build on the foundation of what we started here and continue to bring in media pioneers - people who are doing something brand new in journalism."

#MediaPioneers panelists included:
Don Marinelli, director of innovation, 535media/Inven Global
John Chamberlain and Frank Murgia, hosts of YaJagoff! Podcast, Pittsburgh Podcast Network
Rob Taylor, managing editor, New Pittsburgh Courier
Eric Heyl, field editor, Patch.com (Pittsburgh area)
AmyJo Brown, founding editor, Grant's Hill
Ann Belser, founding editor, Print
Alyse Horn, editor, Storyburgh
"One thing I learned from the panelists is that the journalism field is changing and it's important to have a rounded set of skills to adapt to that change," said Casey Hoolahan, a senior broadcast reporting major.

She added: "The events at the CMI have connected me to so many people in the journalism world of Pittsburgh and beyond, which has led to interview/networking opportunities."
Sara Mackulin, a senior broadcast reporting major and U-View's station manager, said the student-run television station is evolving because of the CMI.
"At the CMI, my peers and I can hone our skills and express our creativity," Mackulin said. "I can honestly say that it has brought growth to our program. New and current students are working with top-notch equipment and gaining hands-on experience, which will only help them in the future."
Conte's message to Point Park students: "Be here often and get involved."
Event Photos
Photos by Allison Hritz, a freshman photojournalism major
More About: Downtown Pittsburgh, Center for Media Innovation, U-View, photojournalism, photography, The Globe, School of Communication, Point Park News Service, WPPJ