more news
Point Park Experience Prepares Courtney List to Excel as Community Relations Intern for the Pittsburgh Pirates
Student Profile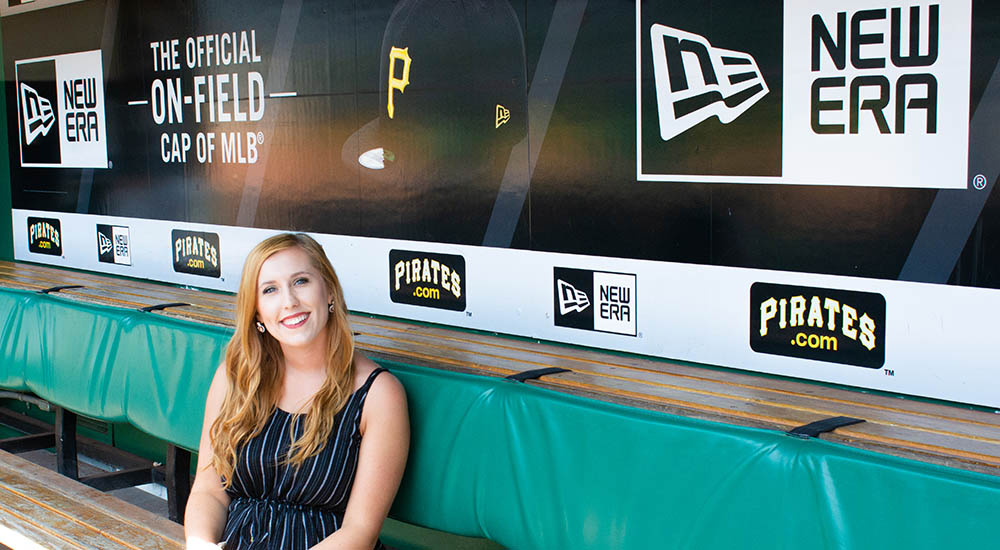 Meet Courtney List
Job Title & Employer

Community Relations Intern, Pittsburgh Pirates

Major

Public Relations & Advertising

Graduation

April 2019

College Activities

PRSSA, Bison Media, Center for Sports Media and Marketing, Advertising Federation, The Body Christian Fellowship, Alpa Chi Honors Society, Point Park's Women's Group and a Rugby Team mom

Scholarships

Alpha Chi Scholarship

Hometown

McKeesport, Pa.

High School

Serra Catholic

Hobbies & Interests

In my free time, I like to volunteer for my favorite nonprofits, watch Netflix and travel.
"Courtney's resume stood out immediately for a position in the Pirates Community Department, as she already had significant special events and sports foundation experience before coming on board with us. We're always looking for someone ready to hit the ground running, and we could tell from the moment she stepped in the door that she had the poise, experience and communication skills to be successful in our field. Our department interacts frequently with the public and non-profit partners, and Courtney has been a fantastic representative of our brand and Pirates Charities in the community. It's evident that Courtney's education has prepared her for this role."
Jackie Hunter, Manager, Pirates Charities
"I visited 18 schools before selecting Point Park University, and it was the best decision I have ever made. The professors, students and opportunities I have found at this school have been truly amazing. I have loved every second of my time here."
Courtney List
How did you land your internship with the Pittsburgh Pirates?
During my spring internship with the Pittsburgh Penguins Foundation, I fell in love with community relations. I wanted to further opportunities for myself in this field and saw the posting for the Pittsburgh Pirates and applied. I left my interview knowing that the Pittsburgh Pirates is where I was meant to intern next! 
What are your key responsibilities as a community relations intern?
As the community relations intern, I handle the majority of our online donation requests, both internal and external. On game days, I am responsible for batting practices, meet and greets, as well as pre-game ceremonies pertaining to our community guests. I assist in implementing community events for both fundraising and educational purposes. I had the opportunity to coordinate my first Make-A-Wish, conducted the Miracle League Fantasy Camp and assisted with on-site execution of the AT&T SportsNet Backpack Charity Night Fundraiser.    
How have your Point Park classes helped you in this internship?
The courses I have taken have prepared me well for all of my internships. I have referred back to lessons that I learned in my classes at each internship I have taken part in.
My Special Events class taught me how important it is to prepare for event "fires" and put them out. This has come in handy during community events with the Pirates.
PR Writing with Camille Downing perfected my writing skills, while Intro to Ad & PR taught me the basics of this industry.
In what ways have your previous internships and part-time positions enhanced your college experience?
My work experience has made a drastic impact in my college life. I have molded into a business professional before I graduated college thanks to the incredible opportunities Point Park has allowed me to take part in.
My college experience has been enhanced by my internships in many ways. When I graduate, I will look back on my crazy spring semester while I was working for the Pittsburgh Penguins Foundation and smile. I loved every second of working upwards of 50 hours a week on top of school and activities. I practically lived at PPG Paints Arena and thought about sleeping on the floor of the office numerous times after playoff games.  
Next, I will think about my 2018 summer of amazing opportunities where I worked for the Pittsburgh Pirates as a community relations intern, Mindful Kreative as an integrated marketing communications freelancer and Phipps Conservatory.
Tell us about your experiences traveling to Italy and Arizona this summer representing Point Park.
Traveling is my favorite hobby, and it has slowly become my favorite addiction. I find myself surfing Travelocity at night searching for my next destination.
Over the summer, I had the incredible opportunity of living out of a suitcase for a month. I started my international road trip by heading to Italy with Point Park's International Media Class. We visited five cities in two weeks. It was a trip filled with walking tours, great memories, friends and laughs. 
As PRSSA President, I have been blessed with the chance to travel to Boston, Miami and Arizona to represent Point Park's chapter at the local and national levels. This summer, I traveled alone to Arizona to attend the PRSSA Leadership Rally. While there, I was fortunate enough to find some really amazing friends that have now become my PR family. I also learned many new skills that will allow for our PRSSA chapter to excel to new levels. 
Is there anything else you would like to add?
I visited 18 schools before selecting Point Park University, and it was the best decision I have ever made. The professors, students and opportunities I have found at this school have been truly amazing. I have loved every second of my time here, and it saddens me to think that I will be starting my last year as a Pioneer in just a few short weeks.
More About: AdFed/PRSSA, public relations and advertising, Pittsburgh Penguins, ATT SportsNet, Center for Sports Media and Marketing, Pittsburgh Pirates, internships, School of Communication