more news
Faculty Q&A: Camille Downing Combines Theory and Real-World Examples in PR, IMC Classes
Friday, February 27, 2015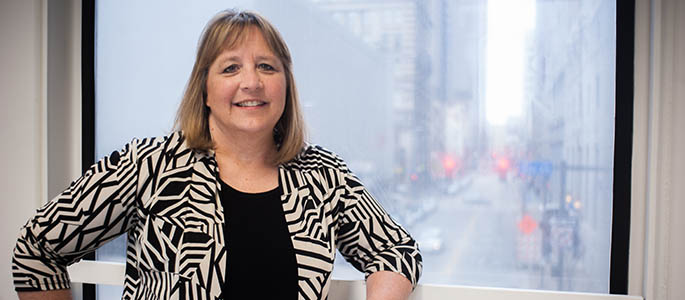 Camille Downing has more than 30 years of professional experience in the communications industry. She began her career as a journalist, worked in public relations and fundraising communications in the healthcare and education fields before founding Downing Communications, a consultancy that specializes in non-profit communications planning and implementation. She has been an adjunct associate professor at Point Park for the past 16 years and joined the faculty in the School of Communication as a full-time instructor in January 2015.
How do you incorporate your real-world experience into your classes?
In every class and every topic I teach, I bring real-world examples to the classroom, whether it be through telling stories of my experiences with the topic while on the job or sharing with students samples of the work I have done. I often have students tell me that it is these real-world examples and stories that resonated the most with them.
The lessons learned through my experiences are the ones they remember and use the most when they are out in the professional world after graduation. I also bring in professional colleagues to speak to the students so they can see firsthand how the theories taught in class are put to work in the professional setting.
Finally, I bring actual clients into the classroom for students to meet and complete professional work so the students have a sense of worth in the projects they complete.
What courses do you teach?
I teach undergraduate and graduate public relations, integrated marketing communications and special topics courses. Also, the IMC capstone class in which students work with a non-profit client through Wood Street Communications to develop full PR and IMC plans from start to finish.
What's your approach to teaching?
My approach is to provide the theoretical background on various public relations and integrated marketing communication topics, and then delve into real-world applications of those topics through a variety of techniques. We often do current events that focus on what is happening in the world today.
I use a lot of interactive means, like videos, case studies, role playing, etc., to get the students engaged and talking so they learn how to think critically about what is going on in the world around them from a public relations point of view.
I am also an advocate for students doing work in the classroom for clients that is beneficial not only to the students as they round out their studies, but also provides solid, highly creative work that the client can use immediately.
The work with Wood Street Communications has been very interesting for the students as they truly learn what it takes to succeed in the work world from the comfort of the classroom with guidance from a professor who has had success doing public relations planning and implementation. This combination of book learning and hands-on experience is invaluable to our students who come away from Point Park with a very different set of skills than many other communication programs.
What inspires you most in the classroom?
I am most inspired by those students who actively engage in classroom discussions and show their love early on for the field of public relations. It is these students, or as one of my former students refers to as the "PR geeks," that make the classroom an engaging and exciting place to be every week.
Why do you like teaching at Point Park?
I like the small class sizes that allow me to build relationships with my students. I love nothing more than staying in touch with my students after graduation and seeing them excel in the field. It is so humbling to have students come back and tell me they did something great on the job because of something they learned from me or other professors at Point Park. I keep in touch with quite a few of my students, have been a mentor for several students, go to dinner with former students, keep in touch on Facebook or Twitter. It really is amazing to see where they are in their careers and know I have had at least some small role in their success after they leave Point Park.
Is there anything else you would like to share?
After 16 years as an adjunct professor at Point Park, I am thrilled to have the chance to work here as a full-time professor. It is equally exciting to have Point Park commit to hiring faculty to continue their work in the business world while they are professors. This understanding of the value of real-world experience by its professors really sets Point Park apart.
Video: Meet Camille Downing
More About: Wood Street Communications, public relations and advertising