more news
From Point Park to ABC News: Career Advice from Journalism Alumnus David Perozzi
Monday, April 3, 2017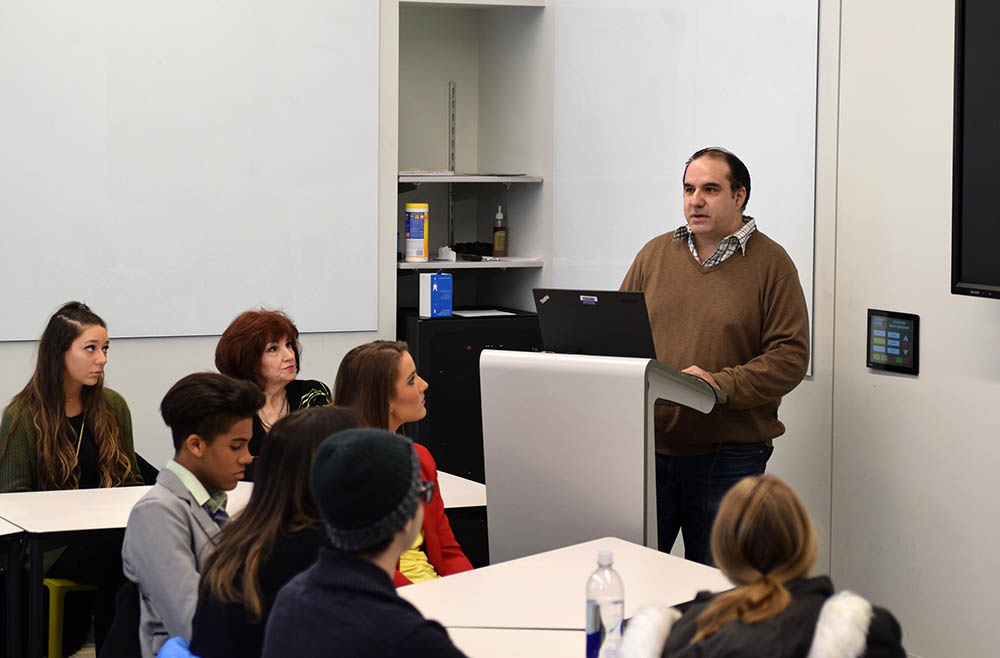 Point Park University alumnus David Perozzi (COMM '88) tells stories for a living.
Perozzi - executive producer for ABC News in New York City and a native of Belle Vernon, Pa. - visited campus to discuss his professional journey and share career advice with School of Communication students.
During his presentation, Perozzi encouraged students to:
Learn how to write well in a social media driven generation.
Apply for internships to build a professional network and broaden their skill set.
Work jobs outside of the industry as a way to learn how to connect with people you may encounter when working on a story.
To teach students about best standards and practices, Perozzi led an exercise providing examples of what journalists should and should not do when faced with different scenarios.
Additionally, he provided tips for professional success:
Keep cover letters short and resumes focused.
Dress conservatively for an interview.
Include your name and phone number in the subject line of an email, and always re-attach your resume.
Be careful what you put on social media (it's not a question of if we look, we will look at your channels).
Connect with industry professionals on social media.
"Stay in the moment and you do your best work at Point Park," Perozzi added. "Ask yourself where you want to be and what you want to do because it matters."
Feedback from Point Park Students
"This was an excellent opportunity, especially because I want to be an executive producer. Mr. Perozzi is such an important figure in the news world and being able to hear what higher management is looking for in job prospects is invaluable." - Kelcei Edmonds, an M.A./M.B.A. student from Shady Side Academy in Pittsburgh, Pa.
"The key message I took away from this presentation was that it is okay to take chances to create your own path/story to find the career you want. I will continue to build relationships and keep an open mind." - Blaine King, a senior broadcast reporting major from Upper Darby High School in Philadelphia, Pa.
"It was great to hear such a success story from someone who was in the program I'm in at Point Park. Mr. Perozzi's advice about what employers are looking for when it comes to cover letters and how to send effective emails will help me as I continue to apply for internships." - Casey Hoolahan, a junior broadcast reporting major from North Allegheny Senior High School in Wexford, Pa.
"I was astounded by the fact that a media executive from New York City encouraged us to connect with him on LinkedIn and offered to review our resumes. I also started connecting with professionals in the Pittsburgh area." - Lindsay Haslett, an M.A./M.B.A. student from Moon Area High School in Moon Township, Pa.
Photo by Gracey Evans, sophomore photojournalism major
More About: alumni, North Allegheny Senior High School, M.A./M.B.A., Center for Media Innovation, School of Communication, success story, Moon Area High School, student workshop, broadcast reporting, journalism