more news
High School Students Explore Creative Careers for a Changing Media World
Friday, April 26, 2013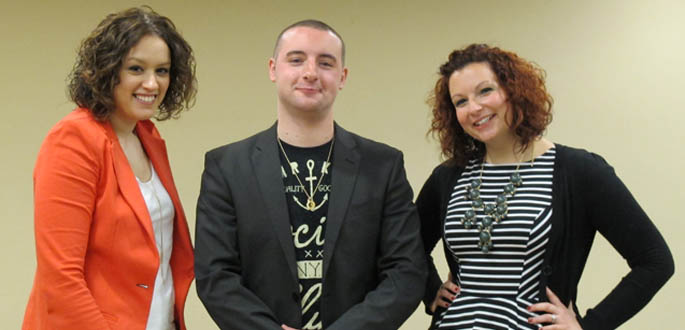 School of Communication alumni Sarah Sudar, Steve Maffei Jr. and Rachel Carlson were the featured panelists at the spring High School Media Day.
The School of Communication hosted area high school students and teachers for the spring 2013 High School Media Day, Thinking Outside the Box: Creative Careers for a Changing Media World.
"I chose to attend to get a better awareness of the latest new media styles and learn the best way to communicate," said Courtney Brant, a senior from Meyersdale Area High School.
Held April 5 on Point Park's campus, the program began with opening comments from Heather Starr Fiedler, Ph.D., associate professor of multimedia and chair of faculty.
"We have so many students and graduates that take the tools and skills they've learned and apply them to new media careers and have lucrative jobs," said Starr Fiedler. "Creative careers exist because of technology and the Internet."
A panel discussion featuring alumni Rachel Carlson (community manager for Yelp Pittsburgh), Steve Maffei Jr. (owner/concert producer of Steve Maffei Jr.) and Sarah Sudar (communications specialist at the University of Pittsburgh and author) followed.
Carlson, a 2004 broadcasting alumna, offered advice on what she believes contributed to her professional success.
"Take advantage of internship opportunities and take a variety of classes so you can determine what you like and what you don't like," she said. "My mom always told me to find a job you love and you will never have to work a day in your life. I love what I do."
Sudar, a 2010 M.A. in journalism and mass communication alumna, agreed.
"Create a career that you want and dream big," she said.
2010 broadcasting alumnus Maffei centered his key message to the group on individuality.
"At Point Park, create and sell yourself as a brand - it's OK to be different," he remarked. "Be authentic and put your image online in a professional manner."
Students then attended hands-on sessions on topics including broadcasting, print, photography and public relations and advertising. M.A. alumnus Jesse Colaizzi gave the lunchtime keynote address sharing with students how he got his start in the industry. Colaizzi's work includes TV program development, commercial production and corporate and industrial media.
"I felt the workshops helped to improve my communication, writing and photography skills," said Samantha Linder, a junior at Pittsburgh CAPA. "As editor-in-chief of my school's newspaper, I plan to educate my classmates on what I've learned at Point Park."
The next High School Media Day will be held during the fall 2013 semester.