more news
High School Students Gain Journalistic Experience at Summer Multimedia Workshop
Thursday, July 21, 2016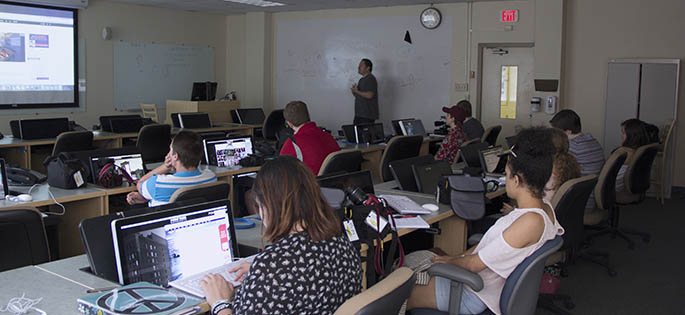 Associate Professor Christopher Rolinson leads a session on photography shooting and editing.

High school students learned the elements of storytelling, met with industry professionals and gained real-life journalistic experience at the School of Communication's annual Summer Multimedia Workshop, held June 20-24 on Point Park University's Downtown Pittsburgh campus.
Photo Gallery
---
Learn More
"We worked on skills in journalistic writing, photography, video production and web design," said Robin Cecala, Ph.D., assistant professor of broadcast production. "The students were enthusiastic and produced a great variety of stories for their website Spectrum 2016."
During the week, the group attended interactive sessions led by Andrew Conte, director of Point Park's new Center for Media Innovation, and professors Christopher Rolinson, Heather Starr Fiedler, David Grande, Robin Cecala and Bill Moushey.

"If you want to do journalism as a career, start doing it now," Moushey advised students. "Write for your high school newspaper, create a blog, join the school's TV station, etc."

Following the sessions, students learned and practiced on professional equipment in the campus television and radio studios.

"My favorite part of the week was learning about radio and going to Point Park's radio station, WPPJ," remarked Riley Moore from Pine-Richland High School.

Additionally, students had the opportunity to get a behind-the-scenes look at the new Center for Media Innovation, an integrated 4,000-square-foot New York City-style media facility, as well as go on off-campus tours at Stage AE and KDKA-TV.
What students are saying about the Summer Multimedia Workshop


Amin Megherhi, City Charter High School
Dream job: Entertainment journalist
"I learned how to interview someone, how to use different cameras, microphones and other equipment. My favorite part of the week was the chance to meet new friends who share similar interests. It was fun to see different parts of the city and see a school that I've been wanting to go to for years now."

Ariana Cobb, Holy Cross Academy
Dream job: Fashion editor
"My favorite part of the week was touring KDKA-TV and watching a live taping. I also enjoyed writing my story because I loved my topic (fashion). It was so much fun doing the research and conducting interviews. I came all the way from New Jersey for this workshop and really enjoyed exploring the city and being on the Point Park campus!"

Nolan Allen, Seneca Valley High School
Dream job: Undecided
"I love the media world, but learning about journalism and multimedia was new to me. My favorite part of the week was visiting Stage AE for our behind-the-scenes tour. I'm in a band so I couldn't help but fantasize about me being on that stage one day as a performer."

Riley Moore, Pine-Richland High School
Dream job: Creative writer
"Coming to Downtown Pittsburgh for the week was amazing. I really loved the atmosphere, the buildings (especially the library) are so beautiful and there was so much to do. While working on our stories, we had access to all kinds of people who had connections in journalism."
High School Students: Join us for Upcoming Media Days
Students interested in visiting Point Park's School of Communication are invited to attend a High School Media Day during the fall and spring semester. Registration information will be posted on the High School Programs page.
Photos by Shayna Mendez, a senior photojournalism major, and Robin Cecala, assistant professor of broadcast production
More About: Downtown Pittsburgh, Pine-Richland High School, high school programs, Stage AE, Seneca Valley High School, School of Communication, City Charter High School, summer media workshops, KDKA