more news
International Media and Professions Class Studies in Belfast, Dublin, Galway and Reykjavik
Wednesday, July 12, 2017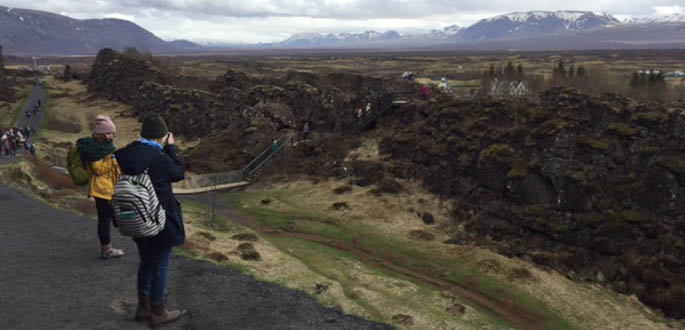 School of Communication Celebrates 10 Years of Travel
Seventeen Point Park University students in the Exploring the International Media and Professions course gained new perspectives on the world during their summer trip to Belfast, Dublin, Galway and Reykjavik. Professors Helen Fallon, Darlene Marnich, Bob O'Gara and academic coordinator Jan Getz accompanied the group.
This year marked the 10th international media trip offered by the School of Communication.
"This trip was such a blessing for me because I never thought I would have the chance to study abroad," said Kaila Markette, a junior public relations and advertising major from McKeesport Area High School. "My favorite part was signing the Belfast peace wall. It was so surreal to be able to sign my name on such a part of Belfast's history."
Classmate Kristin Snapp, a senior journalism major from Butler Area High School, most enjoyed the visit to The Irish News.
"The Irish News is the leading independent newspaper in Northern Ireland, and they have traction in the Republic of Ireland as well," Snapp said. "We spent nearly two hours there and got to hear from professionals who work in a variety of departments."
Highlights from the trip included:
Reykjavik and Iceland
Guided tour of Reykjavik and the Golden Circle
Visit Iceland & Creative Industries and Reykjavik Grapevine Media
Dublin
Book of Kells and Houses of Parliament tour
Dublin City University
Harmonia Publications, Heneghan Public Relations and Press Photographers Association of Ireland
Belfast
Titanic Shipyards/Museum and Belfast Castle
BBC and The Irish News
Galway
Guided tour of Downtown Galway
Galway Bay FM
Cliffs of Moher and Bunratty Castle Medieval Feast
"I made sure to research most of the places we visited, but seeing them in person was jaw-dropping," said Caitlin Miller, a 2017 B.A. in public relations and advertising alumna and a graduate of Pittsburgh CAPA.
Added Markette: "This trip has only made my passion for traveling stronger and was a once-in-a-lifetime opportunity that I will always cherish!"
Learn more about the students' experiences abroad by visiting the student-created website. 
Trip Photos
More About: faculty, study abroad, School of Communication, International media trip, Pittsburgh CAPA, student trips