more news
Internship and hard work advance alumna's career to promotions manager for CBS Radio
Friday, December 18, 2015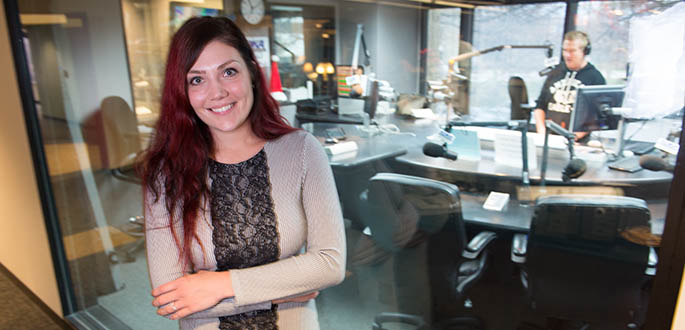 Meet Kayla Seybert
Job title: Promotions Manager, Sportsradio 93-7 The Fan and NewsRadio 1020 KDKA
Employer: CBS Radio, Pittsburgh
Degree earned: B.A. in Broadcasting, 2010
College activities: WPPJ, intern at WYEP 91.3 and CBS Radio
Hometown: Columbiana, Ohio
High school: Columbiana High School
Now living in: New Kensington, Pa.
Hobbies/interests: Baking, cooking, attending concerts, watching baseball, outdoor activities and reading
LinkedIn: Kayla Seybert
How did you land your job at CBS Radio?
During my senior year at Point Park, I attended the internship and job fair on campus and found out about CBS Radio's internship opportunities. I landed an internship in the promotions department, but several people from the production side learned that I also knew how to run and operate a radio board, and use AudioVault (thanks WPPJ!). After my internship finished, they hired me as a part-time board operator and also as a promotions assistant, which quickly became a producing job on 93-7 The Fan.

After about a year, I was hired as a full-time executive promotions assistant to the events coordinator. I held that position for another year and was then promoted to the pre-and-post-game show producer for the Pittsburgh Pirates programming on The Fan.

I attended every Pirates home game for two years, spending about 12 hours a day at PNC Park interviewing the players, editing sound, creating on-air pieces and organizing the pre-and-post-game reaction shows. Soon after, an opening became available as a promotions director on The Fan, which I applied for and got. After a year and a half of doing that, I was then promoted to promotions manager for KDKA radio as well.
What are your key responsibilities at CBS Radio?
Create and execute radio station events, on-air contests and promotional concepts
Work directly with the station talent to develop new ideas and creative ways to enhance our brand
Work closely with the sales department to assist in ideas and pitches to potential clients, enhance overall programs, marketing and appeal of the station
Problem solve and strategically develop successful events for the station and its audience
Why did you choose to attend Point Park?
I loved the atmosphere of being in Downtown Pittsburgh, but coming from a small town, the thought of a big city was sort of scary. Point Park was perfect because it was in a major city, but was still small enough that it had charm and I could actually navigate it without getting intimidated or lost. Point Park also has a GREAT school for broadcasting! The program is outstanding and class sizes are small which allows for hands-on training.
How did your Point Park experience prepare you for your career?
The education and training I received at Point Park is really the reason I was able to get a job in my field so soon after college. I had many skills that a lot of the competition did not. I had already learned how to operate a sound board, how to use many of the radio broadcasting programs used in corporate stations, and also gained confidence and knowledge because of the one-on-one time I spent in the college radio station and with my radio professors. Since I was able to begin my broadcasting and radio classes as a first-year student, I also had quite the jump start on my abilities, and felt it was really impactful that a lot of my classes were actually held IN the student-run radio station.
What are your career goals?
I always said my ultimate career goal was to be in charge of the events and promotions department of a radio station. I NEVER imagined that it would happen so quickly! I want to continue to grow and learn in this position for a while, because I really do enjoy it; I feel there is so much more to experience. But at some point in the future, I can definitely see myself being a program director of a radio station, maybe with a different format.
Final thoughts?
I would always read the alumni success stories on Point Park's website when I was a student and would think to myself, 'man, these people are so great.' I would sit and wonder what it would be like to have a great career doing my dream job, and now here I am telling my story. It's crazy and I'm very grateful for everything Point Park has provided for me!
More About: WPPJ, KDKA, success story, School of Communication, internships, broadcast reporting, Pittsburgh Pirates, Internship and Job Fair, Columbiana High School, Downtown Pittsburgh