more news
Internship at WJAC-TV Leads to Full-Time Job for Alumnus Hunter Tresnicky
Monday, February 16, 2015


Meet Hunter Tresnicky
Job title and employer: News Producer, WJAC-TV, Johnstown, Pa.
Degree earned: B.A. in broadcast reporting, December 2014
Hometown: Hollsopple, Pa.
Now living in: Johnstown, Pa.
High school: Conemaugh Township Area High School
Hobbies/interests: I'm active in the arts community of Johnstown as an actor and singer
Twitter: @HunterTresnicky
LinkedIn: www.linkedin.com/in/HunterTresnicky
Why did you choose to attend Point Park?
I chose Point Park after attending the High School Summer Media Workshop. Working with the students, professors and equipment for an entire week confirmed for me my career choice of broadcast journalism. Spending that week at Point Park was all I needed to put this school at the top of my list when I started applying for colleges.
How did you land your current job?
It was an interesting setup; I started with WJAC in May 2014 as an intern. Part way through the summer the news director asked me if I would begin producing entire newscasts, he offered me a freelance gig, allowing me to both continue my internship and get paid, while producing full newscasts that aired. The summer was beginning to draw to a close, and I was able to work out a deal with Point Park and with the news director, allowing me to work full time as a news producer and complete my degree as a student at Point Park. That deal was complete in the beginning of August, and I went my entire senior semester completing my classes online and traveling once per week for two classes on campus.
What are you key job responsibilities?
I serve as the producer for the 6 p.m. weekday newscast (I work from 10 a.m. to 6:30 p.m. Monday through Friday). My daily responsibilities include helping the noon anchor produce the noon newscast, I then booth the newscast, meaning I time the show from the control room. After the noon, I begin work on the 6 p.m. show, which is filled entirely with local news.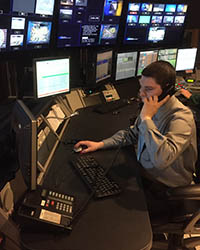 What was it like going to school in Downtown Pittsburgh?
I loved going to school in Downtown Pittsburgh! It was one of my favorite things about Point Park. Coming from being neighbors with cows to the urban environment was a fantastic change of pace for me and I absolutely loved it!
What are some of your favorite college memories?
First and foremost my favorite experience at Point Park would be all of the time I spent hanging around the on-campus TV station. Also, working with professors who have become professional mentors and friends. But another important favorite would have to be the opportunity to cover a vast variety of news stories for the campus TV station, U-View. Whether it be a giant rubber duck, going to West Mifflin to cover President Obama's address the day after his State of the Union, or interviewing Cake Boss, Buddy Valastro, while he's giving away 10,000 FREE cakes! I have so many favorite memories!
Anything else you would like to add?
I just have to say how thankful I am to have so many great professors who have prepared me for the real world and made me ready to take a professional job even while finishing my degree. I would like to send a big shout out and thank you to Gina Catanzarite, Robin Cecala, Paul Coatsworth, Maria Kakay and Michelle Wright!
More About: U-View, high school programs, internships, broadcast reporting, Downtown Pittsburgh, high school media day, success story