more news
Internship Leads to Full-Time Job at Post-Gazette for 2014 Alumnus Andrew Goldstein
Tuesday, January 12, 2016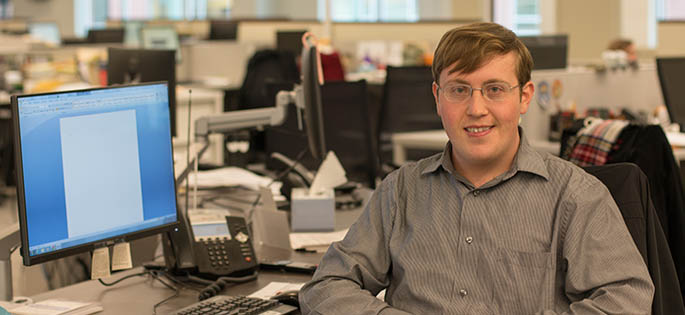 Meet Andrew Goldstein
Job title and employer: Staff Writer, Pittsburgh Post-Gazette
Degree earned at Point Park: B.A. in Journalism, 2014
College activities: The Globe, WPPJ and Society of Professional Journalists
Scholarship from Point Park: Myron Cope Scholarship
Professional organizations: Pennsylvania NewsMedia Association, Society of Professional Journalists and The Press Club of Western Pennsylvania
Hometown: Pittsburgh, Pa.
High school: Taylor Allderdice High School
Now living in: Pittsburgh, Pa.
Hobbies/interests: Improving my reporting and writing.
Twitter: @angolds
How did you land your job at the Pittsburgh Post-Gazette?
I received an internship with the Post-Gazette through Point Park that began in the fall of 2014. I spent six months as an intern learning various roles of reporters and editors throughout the newsroom. Finally in March 2015, a position opened up and I applied for it and got it.
What are your key responsibilities as a staff writer?
I'm the morning breaking news reporter, so I often cover police and emergency situations that happen overnight or throughout the day. Technically, though, I'm a general assignment reporter, meaning I can be assigned to cover just about any story at any time.
What excites you the most about your job?
One of the most exciting things - and this can be a blessing and a curse - is that I rarely know what will happen on any given day. There are some slow times where I'm mostly sitting around reading through documents. But for each one of those days, there's a day when security is escorting me off a property that an organization doesn't want me snooping around, or being told by a police officer to move away because I'm in the direct line of fire, or getting lost on the back roads of rural West Virginia while trying to cover an obscure story my editor thought of that morning.
Why did you choose Point Park?
I was born and raised in Pittsburgh, so staying close to home was attractive to me. I knew going into college that I wanted to major in journalism, and, as far as I could see, Point Park had the best journalism program in the region.
How did your Point Park experience prepare you for your career?
The journalism professors at Point Park took me from being a novice writer to someone who could jump into the Post-Gazette and get up to speed quickly in a fast-paced newsroom environment. That kind of thing takes years of hard work and training from those who know what they're doing, and preferably from people who have done it themselves. That's exactly what you get at Point Park.
What are your career goals?
My biggest career goal was to actually get a job in the journalism industry, so I can check that off the list. A few months ago one of my editors asked me a question that caught me off guard: Where do you see yourself in 10 years? I had to think about it for a while, but eventually I realized that I don't have a good answer right now. My thinking was that after I graduated from college, I'd get a job at a small newspaper somewhere and try to move along to a bigger organization - like the Post-Gazette - five or 10 years in the future. I guess I'm off to a good start.
Final thoughts?
Students interested in media fields should understand that there's a lot more to journalism than what they will learn in the classroom. It's important for students to get out and gain as much experience as possible on their own. That can be through internships, freelancing or even joining their school media outlets. I did all three while I was in college, and the experience was invaluable.
Photo by Victoria A. Mikula, a junior mass communication major
More About: Allderdice High School, journalism, SPJ, School of Communication, The Globe, success story, WPPJ, internships, scholarships, alumni