more news
Broadcast Reporting Students Co-Produce Kidcast on Kidsburgh.org and KDKA.com
Thursday, March 14, 2019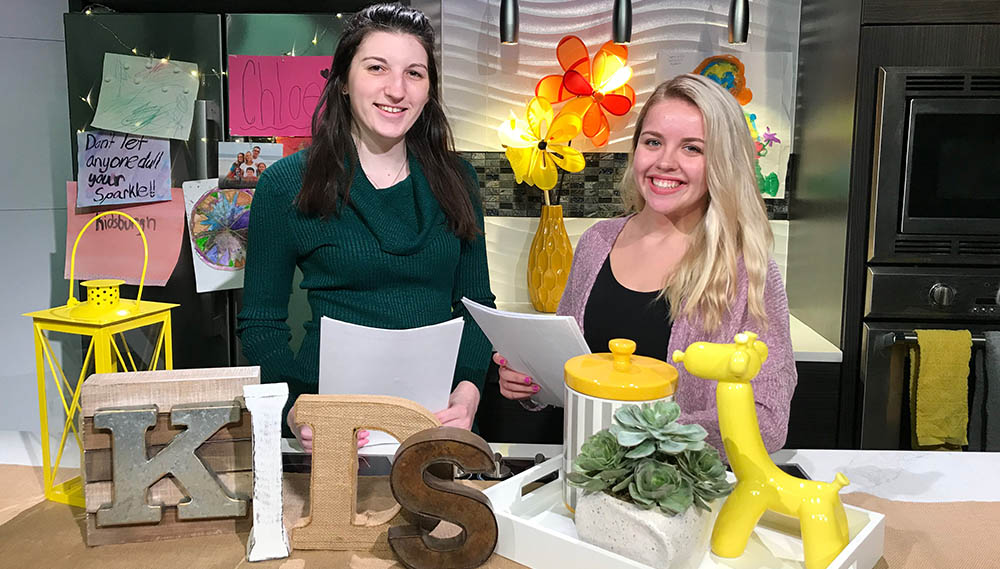 (L-R) Meghan Macioce and Marlee Pinchok
Two Point Park University School of Communication students are gaining hands-on experience outside of the classroom as co-producers of Kidcast, a webcast on Kidsburgh.org and KDKA.com/Kidsburgh. Below, the students discuss how the education and training they received at Point Park prepared them for this opportunity.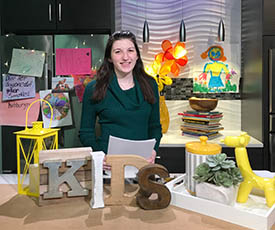 Meet Meghan Macioce
Degree pursuing: B.A. in broadcast reporting, April 2019
Hometown: Murrysville, Pa.
High School: Franklin Regional High School
Dream job: Sideline reporter or media relations for a professional sports team
Tell us more about Kidcast and your responsibilities as a co-producer.
Kidcast is a webcast on KDKA.com/Kidsburgh that provides parenting advice and things to do around Pittsburgh with kids 17 and younger.
I have the unique opportunity to report to Kidcast Executive Producer and Host, Kristine Sorensen. I set up the studio, interview professionals around the city, make sound on tape (SOT) and video packages and write the script for Kristine. We also provide pictures and videos for upcoming events on the webcast. 
In what ways has your Point Park experience prepared you for this role?
Joining U-View was the best experience that prepared me for this role. I became a producer as a sophomore and wrote scripts, created rundowns and made graphics weekly. Part-time instructor Gina Catanzarite's classes also helped me succeed in this role; she expected us to create professional video packages and SOT, holding us to industry-standard deadlines. 
Is there anything else you would like to add?
Take advantage of every opportunity presented to you and always put in at least 100%. You never know when your hard work will pay off. 
---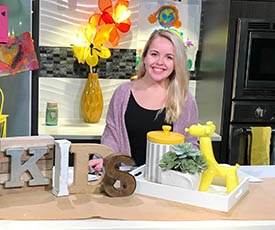 Meet Marlee Pinchok
Degree pursuing: B.A. in broadcast reporting with a minor in broadcast production, April 2021
Hometown: Lower Burrell, Pa.
High School: Burrell High School
Dream job: Anchor of Good Morning America
Why did you choose Point Park for your major?
I knew that if I wanted to start gaining the skills to achieve success in my career early on, I had to go to a school where opportunities were at my fingertips. Not only is Point Park located in Downtown Pittsburgh, an ideal location to obtain a wide variety of unique opportunities for my major, but the University offers hands-on classes and its own television station, U-View. I absolutely love getting to hone my on-air, writing and production skills at a station that provides a real-world newsroom environment.
How is this experience preparing you for your career?
Being a co-producer has prepared me immensely for my future career as a news reporter. I am constantly learning and receiving assignments from Kristine, a professional in the industry. Through writing weekly scripts and conducting interviews, I am continuously enhancing my skills. I have also made valuable professional contacts through my time at Kidsburgh.
Is there anything else you would like to add?
Since the first weeks of my freshman year at Point Park, I quickly learned that if you put in the intense dedication, passion and hard work for the goals you want to achieve, you will earn recognition and opportunities. I appreciate that so much. This position is an excellent example of one of the opportunities I worked so hard to be considered for. I am incredibly grateful for the experiences and skills I have obtained at Point Park University thus far.
More About: U-View, Franklin Regional High School, journalism, School of Communication, broadcast reporting, Burrell High School, KDKA