more news
National Public Radio's Diane Rehm to Students: Listen, Fact Check and Seek Credible Sources
Tuesday, December 6, 2016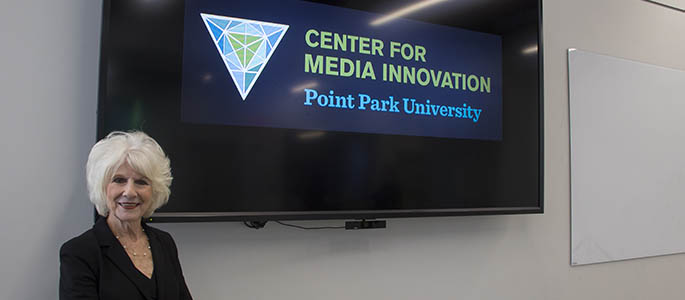 Diane Rehm - award-winning host of The Diane Rehm Show on National Public Radio since 1984 - visited Point Park University during the fall semester to talk about her career and new memoir On My Own. The event was held as part of a partnership with the Pittsburgh Arts & Lectures and sponsored by Point Park's Honors Program, School of Communication and Center for Media Innovation.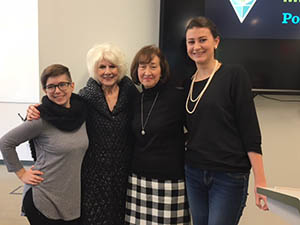 "It's glorious to be among students and those of us who are thinking about what comes next in journalism," Rehm said.
Rehm, who is retiring from NPR at the end of the year, was in town for a presentation on her book that detailed her husband's decision to withhold food and drink to end his life and then her life without him. He had Parkinson's disease.
Honors Program and School of Communication students and faculty attended her lecture that evening, and several students had dinner with her after that presentation, permitting for one-on-one discussion. Honors Program students read her memoir as one of their Book Club selections this fall.
During her conversation, Rehm encouraged students to work hard, listen, fact check and seek credible sources.
"Diane emphasized how we as journalists should remember to do less talking and more listening," said Nicole Pampena, a freshman journalism major from North Hills High School in Pittsburgh, Pa. "Hearing from Diane is something I will carry with me for the rest of my career."
"Students also had the opportunity to learn first-hand how Diane plans and organizes her talk show and its importance in this changing media landscape," said Helen Fallon, professor of journalism and director of Point Park's Honors Program. "'Check, check, check,' she emphasized time-and-time again."
Alexa Newbrough, a freshman theatre major from Deer Lakes High School in West Deer, Pa., said Rehm stressed the importance of the human voice.
"She talked about how much we as a society are using our phones and technology to communicate, but she wanted it to be clear that the human voice is such an essential way to communicate and it should not be overlooked," Newbrough said.
Autumn Barszczowski, a sophomore public relations and advertising major from City Charter High School in Pittsburgh, Pa., added, "It was so lovely to meet Diane Rehm. She is such a genuine person and spoke to you as though you were a friend, rather than someone she had just met."
Learn More
Learn more about undergraduate and graduate academics at Point Park University.
Lead photo by Shayna Mendez, senior photojournalism major
More About: public relations and advertising, School of Communication, Center for Media Innovation, broadcast reporting, theatre, City Charter High School, Honors Program, Deer Lakes High School, journalism, North Hills High School, guest artists