more news
Pittsburgh International Airport Debuts Art Installation by Part-Time Point Park University Instructor
Monday, October 26, 2020
Pittsburgh International Airport is featuring a new art installation in Concourse A from Carin Mincemoyer, M.F.A., a part-time photography and cinema arts instructor at Point Park University who has done commissioned work for the Kennedy Center for the Performing Arts, New York City and the City of Pittsburgh.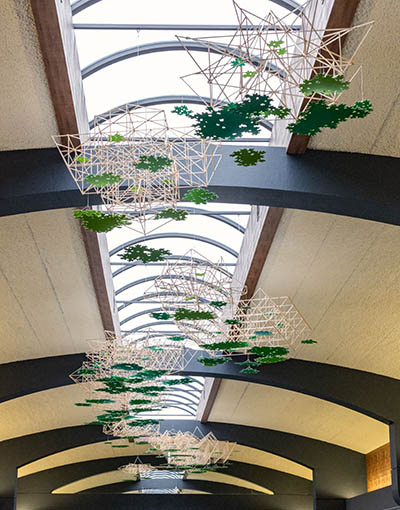 Shy Canopy 
The airport put out a call for work that would create a calming effect.
"I was thinking about the experience of looking up into the tree canopy on a sunny day," Mincemoyer said. "I wanted to create a piece that would dapple the light from the skylight and add some color and soft movement to the space. Looking up into both the skylight and the trees draws our eye skyward and pulls our mind out of our daily concerns for a moment by inviting us to connect with the sun and sky above."
The installation, called Shy Canopy, consists of 13 mobile-like modules made up of frame structures built with Poplar, ranging in diameter from 42 inches to 8 feet. They are suspended along most of the 90-foot skylights near gates A4-8. All the various parts of the artwork are independently connected by swivels, so when any air current moves through, they will slowly turn, evoking the subtle movement of a forest canopy in the breeze.
"Mincemoyer's proposal caught the airport's eye for its nod to the local flora," said Rachel Rearick, arts and cultural manager, Allegheny County Airport.
"When I visited Carin's studio to view her test installation of the work suspended, I was in awe of what she's accomplished," Rearick added. "The artwork performs a bit of magic. It truly conveys that you've been transported from an architectural space into a forest as the sculptures catch light similar to that of individual trees making up a canopy."
More About: School of Communication, faculty, cinema arts, photography, Conservatory of Performing Arts