more news
Point Park Professor Publishes Book on Online Social Networks
Monday, March 28, 2016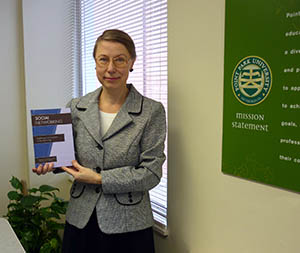 Point Park Professor Tatyana Dumova, Ph.D., has published a new book, Social Networking: Redefining Communication in the Digital Age (Fairleigh Dickinson University Press, 2016).

The book, co-edited with Anastacia Kurylo of St. Joseph's College, provides a focused examination of online social networking across the globe to expose the inherent, yet often subtle, differences of social media adoption and usage.
Breaking previously established patterns of technology adoption and crossing demographic, social, and cultural divides, online social networks reach hundreds of millions of Internet users worldwide.

The convergence of social media platforms, according to Dumova, accelerates the expansion of social networks that are now accessible anytime and anywhere via smartphones, laptop and desktop computers, tablets and wearables. Social networks create a new, unrecognized culture.
Technology-mediated environments enabled by social networking sites continue to evolve and become more multifaceted.

"Embracing technological change is impossible without understanding the broader social, cultural and ethical implications of recent technological innovations," says Dumova.
In a chapter titled "Social network research methods: Approaches and key issues," Dumova zeroes in on social network analysis as a framework for understanding the patterns of social interactions made possible by networks like Facebook and Twitter. Along with technical difficulties, data collection from online social networks presents serious ethical challenges, as it is the responsibility of researchers to develop strategies to safeguard participants' social and emotional well-being, preserve anonymity and confidentiality and prevent online privacy breaches.
"As research on social media networks is coming of age, solving the ethical challenges of dealing with big data promises to open new research avenues for the future study of the social networking universe," explains Dumova.
The international scope and interdisciplinary content of the book appeals to various audiences including undergraduate and graduate students, academics, and practitioners, and encourages them to enter the discussion and pursue new scholarship in the burgeoning area of social network research.
In addition to social networking, Dumova has previously published on global blogging and engaging technology in university-community partnerships.
More About: M.A. in media communication, social media, research, faculty, School of Communication, M.A. in communication technology