more news
Point Park University announces new Center for Media Innovation
Wednesday, October 21, 2015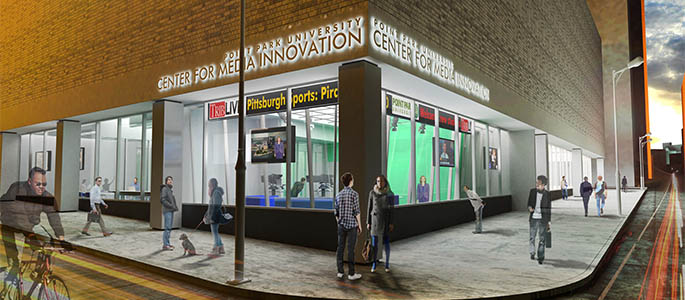 School of Communication students will gain hands-on experience in their major in the University's new Center for Media Innovation, set to open in 2016. Located at Wood Street and Third Avenue, the 4,000-square-foot center will have floor-to-ceiling glass walls, flat-screen televisions and a digital ticker that offers a New York City-style media hub where passersby can be entertained and informed as students learn their craft.
Photo Gallery
---
Learn More
"Today, we are gathered to announce the Point Park University Center for Media Innovation. An academic laboratory and incubator, where faculty and students, along with professionals working on the cutting edge of new media, will collaborate to teach and learn and be a leader in media innovation," said University President Paul Hennigan at a press conference, Oct. 21.
Designed by Pittsburgh-based GBBN Architects, the center will cost $2.5 million to build and is made possible, in part, with a grant from the Allegheny Foundation. Trib Total Media is a sponsor of the center.
Richard M. Scaife, the late owner of Trib Total Media, was firmly committed to journalism and its essential role in American life, according to Matt Groll, chairman of the Allegheny Foundation.
"Dick always said he wanted to find ways to help build journalism, not just through the Trib and his other papers, but through the education of future journalists," said Groll, who succeeded Scaife as head of the foundation in 2014. "This partnership is a perfect opportunity for us to do that with one of his two foundations. It is especially exciting because Point Park's program is here in Pittsburgh."
The center will act as a critical educational complement to Point Park's Academic Village Initiative, the multi-block living and learning hub that has led to a transformation in the heart of Downtown Pittsburgh.
Center Features State-of-the-Art Facilities
Key areas in the media innovation lab include:
Television and radio broadcast studios
The TV studio will include a green screen, industry-specific lighting, and state-of-the-art high-definition cameras. A radio broadcast booth will share a common control room. Both broadcast areas will be self-contained modules with high-visibility glass walls for a fishbowl studio experience.
Photo studio
The studio will feature high ceilings and light control for the best possible shooting environment.
Multimedia newsroom
Reporting and multimedia storytelling, along with graphics production, social media, and website and page layout can be conducted through multiple courses in this high-tech smart classroom.
Transformational presentation and gallery space
The center will open into an event space for networking and educational sessions with newsmakers and industry leaders. The same area also can be used as a photo gallery, offering another space for students to showcase their work.
Also featured will be café-style work stations for editing, reporting and design situated throughout the facility and open to students for class projects, the Point Park News Service, Wood Street Communications and The Globe.
In the News
More About: journalism, broadcast reporting, photography, Point Park News Service, Center for Media Innovation, Downtown Pittsburgh, The Pioneer, multimedia, Wood Street Communications, The Globe, photojournalism