more news
School of Communication students gain real-world experience during summer internships
Tuesday, June 5, 2012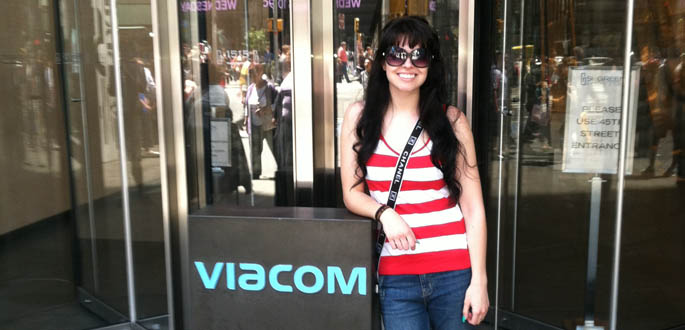 School of Communication student Alicia Lyons is working as an intern at MTV Networks. Photo by Patty Lyons
Point Park School of Communication students are broadening their skills as they begin summer internships at a variety of media outlets and organizations. Students have the option to earn credit for a supervised, registered internship that will provide hands-on, real-world experience related to their major. Students doing internships this summer include:
Williamson learned about her internship after attending an internship fair held at Point Park and received support from her academic advisor, Helen Fallon.
Hall found encouragement from faculty in the School of Communication when applying for internships. "Professor Moushey wrote a letter of recommendation which I included with my application materials. Without the skills I have gained as a student, I would not be eligible for this internship. I owe it to the education I have received for helping me move forward with my career," she said.
Bergamasco was referred to her position by a Point Park alumnus. "Tom McMillan, Penguins vice president of communications and Point Park alumnus, told me about the internship opportunity at the Pittsburgh Penguins Foundation. It is my job as an intern to consistently update all forms of social media and assist in reconstructing the website."
As for Lyons, working at MTV is a dream come true. "This internship has been a blessing so far. I've dreamed of working for MTV as a child. I came to Point Park as a broadcast major knowing that this is the place that would get me there and here I am."
Are you a School of Communication student working as an intern or have an internship scheduled in the coming semester? If so, email gpuppo@pointpark.edu with your name, major and employer information to share your experience.