more news
Student photographs of blast furnace site being exhibited
Thursday, September 29, 2011
Photography class given access to dilapidated industrial location last spring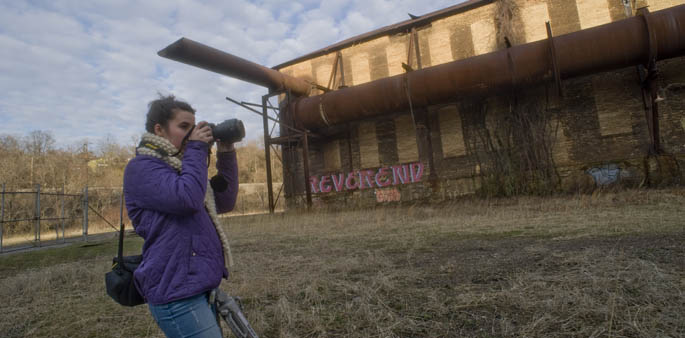 Above: Photography major Madeline McKain photographs the Carrie Furnace site in Rankin, Pa.

Students in the spring 2011 digital photography class had an unusual and challenging opportunity as part of the course: explore and photograph the sprawling U.S. Steel Homestead Works' Carrie Furnace site, which ceased operating in 1982.
Their photos are being exhibited in the Lawrence Hall lobby as a companion exhibit to the Rivers of Steel at Point Park University, an exhibit featuring works from regional artists depicting Pittsburgh industrial past.
Associate Professor Christopher Rolinson said that when the opportunity to photograph the site arose, his students were excited to take part.
"They all liked the enormity of it," Rolinson said. "They really identified with the grittiness of the site."
The group spent several days at the site, which is located about eight miles from campus in Rankin.
"I really enjoyed seeing the historic location and getting hands-on access to photograph it," said Erin Price, a digital media senior. "Since Carrie Furnace is no longer in use, it is very run down, but the dinginess of the place is brightened by colorful graffiti. This made for some great photographs."
Carl Bloss, a junior in the photography program, said having free reign to roam such a "vast and mysterious place" was great.
"I love old abandoned places like that because they're still as amazing as they were when in operation," he said. "Some items from the employees' lockers were still scattered on the floors, which was eerie, yet very thought-provoking and interesting."
The student and faculty exhibit runs until Oct. 9. Both exhibits are free and open to the public.
"I didn't get to explore every nook and cranny in the Carrie Furnace, but what's nice about the exhibit is that you see what other photographers saw and you maybe you overlooked," said Bloss.
Price added that she was really glad to be part of the gallery. "It is something to add to my portfolio and be proud of," she said.
Rolinson said the exhibit will likely get a second showing at the Bost Building, which is home to the Rivers of Steel National National Heritage Area.
In October, a group of students is going back to photograph the Carrie Furnace site. It is being organized in conjunction with the student group National Press Photographers Association and will not be associated with a class, so Rolinson said the students will have even more time to spend taking photographs there.