more news
Students Connect with Employers for Internships, Jobs at Baseball Winter Meetings
Tuesday, January 12, 2016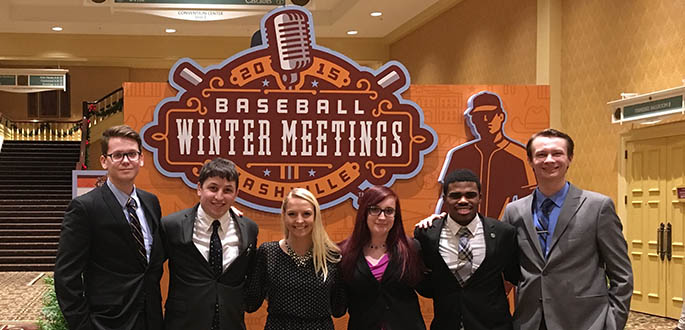 (L-R) John Mrozinski, Zachary Aaron, Dani McSweeney, Casey McGaw, Blaine King and Joshua Croup


Point Park University's Pittsburgh Center for Sports Media and Marketing selected six students, accompanied by Kelsey Veydt, the center's graduate assistant, to attend the 2015 Baseball Winter Meetings, the industry's largest annual gathering of major and minor league executives.
At the Baseball Winter Meetings, held Dec. 6-10 in Nashville, Tenn., Point Park students attended a job fair with employers seeking interns, part-time and full-time employees for more than 400 positions.
Below, the students discuss their experience leading up to and at the meetings.
How did students prepare for the meetings?
Classmate Josh Croup attended last year's Baseball Winter Meetings in San Diego, Calif., which prepared him to work with me to create a seven-week training course for this year's group of students. During our weekly meetings, we held mock interviews, peer-edited students' websites and reviewed resumes. Additionally, students met with Elsie Boucek from Point Park's Career Development Center and alumnus Tom Kayser (COM 1974), president of the Texas League. - Kelsey Veydt, M.B.A. student who accepted a summer internship with the Daytona Tortugas
How were students selected to attend?
Students interested in going to the meetings had to submit a resume and cover letter explaining why they wanted to attend. More than 25 students applied and went through a two-round interview process. - Casey McGaw, sophomore sports, arts and entertainment management major who accepted a summer internship with Tri-City ValleyCats
Tell us about any networking opportunities.
There were more than 480 job postings from 128 organizations at this year's job fair. Our group landed more than 40 interviews (there were a lot of job seekers who walked away with nothing). Executives I talked to said they had upwards of 300 applicants for positions, and had to select three to seven students to interview. The fact that Point Park students landed so many interviews speaks volumes about their preparedness and the quality of their work. We were focused and set ourselves apart from the competition. - Josh Croup, sophomore broadcast reporting major

The networking opportunities were absolutely incredible! I met with teams from all over the country and connected with so many talented professionals. Everyone was so supportive and took the time to answer questions to help us succeed. - John Mrozinski, junior SAEM major
What was one of your most rewarding experiences?
The most rewarding experience for me was the atmosphere. From competing with others trying to land an interview and internship, to walking around with executives from the leagues, as well as being around media from ESPN, FOX Sports, MLB Network, etc. It was incredible. - Blaine King, junior broadcast reporting major
What key message did you take away from the meetings?
You have to put yourself out there in order to be successful. I applied for several positions that I never imagined I could interview for. I was afraid to apply, but I did it anyways and landed 13 interviews! - Dani McSweeney, sophomore SAEM major and transfer student who accepted a summer internship with Perfect Game USA

Photo by Kelsey Veydt, M.B.A. student
More About: Center for Sports Media and Marketing, Rowland School of Business, broadcast reporting, internships, sports, arts and entertainment management, M.B.A., School of Communication, transfer, Career Development Center