more news
Students Gain First-hand Experience Working with AT&T SportsNet Production Crew
Wednesday, December 6, 2017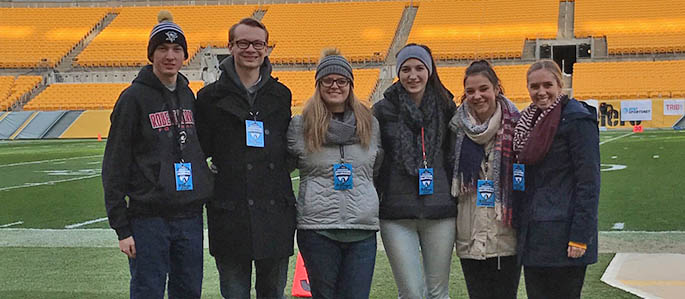 This fall, six Point Park University School of Communication students spent their Friday nights working behind the scenes with the AT&T SportsNet production crew for high school football broadcasts.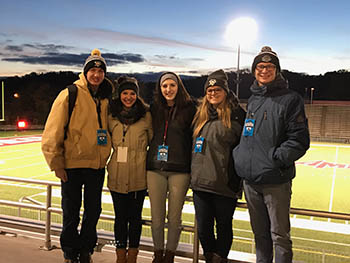 The students saw firsthand what it takes to put on a live sports production from start to finish. They attended pre-production meetings with producers and on-air talent at the AT&T SportsNet offices on the North Shore ahead of the weekly broadcasts.
Every Friday night, they traveled to a different local high school for the AT&T SportsNet game of the week through the conclusion of the season at Heinz Field for the WPIAL championships. The crew welcomed the students hours before the broadcast to run through the process of preparing for a live broadcast.
During games, the students shadowed crew members and on-air talent in the broadcast booth and the production truck for an up-close look at the live broadcast.
In Their Own Words: Feedback from School of Communication Students
"The AT&T SportsNet crew made us feel like we were part of their family and gave us great hands-on experience. I shot footage one week that aired on the next broadcast, which was really cool to see my work used in a professional production. Working at Heinz Field at the end of the season was the icing on the cake. We all gained a greater appreciation for what happens behind the scenes on a live broadcast and will bring the knowledge back to Point Park for our student-run productions." - Josh Croup, senior broadcast reporting major from Butler Area High School
"Being able to work in an environment with so many amazing professionals was invaluable. Everyone we worked with gave us so many helpful tips. Everything we did with them was also held outdoors, so it was interesting to see how they had to adapt to weather conditions and how they did everything in a production truck as opposed to a studio." - Allison Schubert, sophomore broadcast reporting major from Butler Area High School
"My favorite part was being able to sit in on the weekly meetings at the AT&T offices on the North Shore. A lot more goes into a live production than most may think. For a three-hour game, days of preparation, planning and setup are required in order to have a smooth broadcast. That was my first time physically being on the grass at Heinz Field; it was a surreal moment." - Michael Turk, sophomore mass communication major from North Allegheny High School
"The crew truly cared about helping us learn the business. They were more than happy to answer questions, explain their roles and even helped us with projects we completed at the games. At first, I didn't think I would be a good fit for this experience because of my lack of production knowledge, but I am very happy I took advantage of the opportunity." - Dara Collins, sophomore journalism major from Richland Senior High School
"The crew showed us how they work together out in the field. By the end of the season, I think we can all agree that we felt a part of the team. Also, attending weekly pre-production meetings exposed us to what it's like to be in a professional environment. This experience made us think more about the way we sit, speak and dress." - Meghan Macioce, sophomore broadcast reporting major from Franklin Regional High School
"Seeing each and every game play out from start to finish with all the breaks and graphics was really cool. I spent most of my time with AT&T in the production truck being a font assist for the graphics creator. It was great getting to learn a new skill and have a part in each production. Everyone was very helpful and insightful. They always tried to give us something to do or teach us a new skill. It was great to work alongside them." - Sara Mackulin, junior broadcast reporting major from Thomas Jefferson High School
Article by Josh Croup
More About: ATT SportsNet, School of Communication, Butler Area High School, U-View, Franklin Regional High School, Heinz Field, sports communication, Richland High School, broadcast reporting, mass communication, North Allegheny Senior High School, journalism