more news
Students Gain Hands-On Experience Photographing Ovarian Cancer Walk
Wednesday, October 16, 2013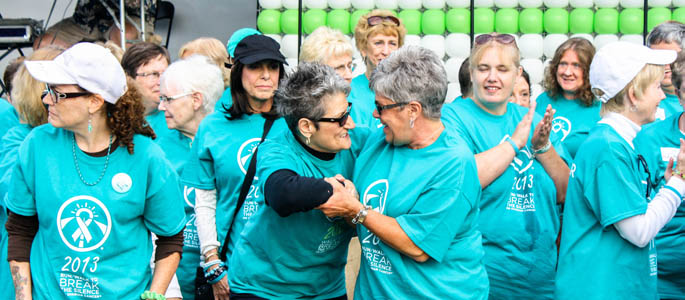 Student photographer Kiersten Mae Lewis captures race participants at the Run/Walk to Break the Silence on Ovarian Cancer. Check out more photos below.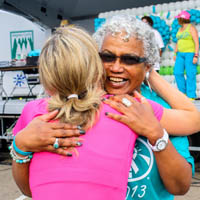 Photo by Kiersten Mae Lewis
Point Park University photography and photojournalism students had the unique opportunity to serve as volunteer photographers at the National Ovarian Cancer Coalition's annual Run/Walk to Break the Silence on Ovarian Cancer, held in September in Allison Park, Pa.
"For the past four years, Point Park has provided skilled and creative students to serve as our volunteer photographers," said Mary Urban, Pittsburgh chapter manager, NOCC. "The students have an eye for what makes our event special, which ensures that the pictures they take tell the story of our event."
The students' photos are considered for use on the NOCC website, in email newsletters, on social media sites or for public relations purposes.
Below, the student volunteer photographers discuss how the hands-on education and training they are receiving at Point Park prepared them for this type of assignment.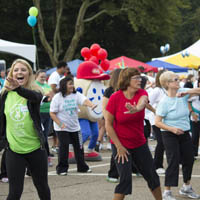 Photo by Rachel Stellhorn
Kiersten Mae Lewis
B.A. in photojournalism, 2015
"Photographing this walk really helped me better myself in taking photos. I even applied skills that I have learned in a broadcast writing class, and that helped me interview race participants to hear their stories while also taking photos. I'm so honored to have my work considered for publication, too."
Rachel Stellhorn
B.A. in photography, 2015
"I applied an equal mix of what I've learned in my fine art and journalism classes at this event. When shooting an event like this it's important to have all of those skills under your belt, as they help you to capture great visually appealing photographs that also tell a story."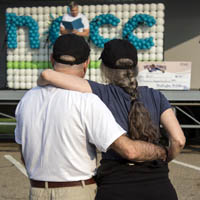 Photo by Dominique Hildebrand
Dominique Hildebrand
B.A. in photojournalism, 2016
"At Point Park, we are a family of photographers. There's no social boundary between the art and the news photographs, and we are taught how to appreciate all forms of our common medium. Pittsburgh is such a great community to get your start as a photojournalist."
Added Urban, "I am impressed by the high quality of work they submit and am grateful for their effort. We send every ovarian cancer survivor in our area a copy of the pictures, and that would not be possible without keen photographers on site, such as the students from Point Park."
Learn More
Explore the photography and photojournalism program at Point Park.
Photo Gallery

Photos courtesy of Kiersten Mae Lewis, Rachel Stellhorn and Dominique Hildebrand
More About: photojournalism