more news
The Changing Face of Sports Journalism Topic of Sports Media and Marketing Event
Wednesday, May 8, 2013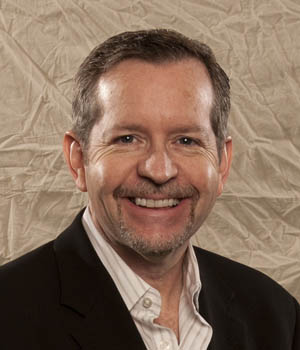 Point Park alumnus and sports journalist Michael DeCourcy addressed students and faculty about The Changing Face of Sports Journalism on April 17 in the Lawrence Hall Ballroom.
DeCourcy, a 1981 journalism and mass communication alumnus, has spent the last 13 years as a college basketball columnist for Sporting News. He also works as an analyst on the Big Ten Network and can be heard as a frequent guest on sports radio stations.
DeCourcy began his presentation by telling the group how he was resistant to embrace technology in an emerging digital age.
"I had a basic cell phone for most of my career, and it served me quite well," he said. "In 2009, I reluctantly purchased a smartphone, and it's the most important piece of equipment I use as a sports journalist."
DeCourcy explained how the Internet and social media have allowed him to build a brand and establish a following.
"Twitter is one of the most effective means of instantly distributing information to an audience," he said. "Twenty years ago readers had to wait until they picked up their newspaper in the morning to learn about the previous night's game. Technology has certainly changed the way we communicate today."
Cody Williams, a junior sport, arts, and entertainment management major, said it is important to understand how sports media has changed over time, and that he appreciated the opportunity to hear DeCourcy's experiences and viewpoints.
"Mr. DeCourcy elaborated on the significant change that social media has had on the industry. These events are very useful, and provide vital information and insight on the sports media and marketing world," remarked Williams.
Sophomore photojournalism student Olivia DiYanni said she chose to attend DeCourcy's presentation to learn more about the sports world through a journalist's perspective.
"I learned how to become a more versatile journalist and I will apply his message by considering taking radio and broadcasting classes," she said.
When asked his advice for students considering a career in the industry, DeCourcy offered his suggestions for success.
"Be willing to adapt and look for the opportunities out there," he said. "Objectivity is such a big deal in journalism school - it's so important to be honest, truthful and have a voice about the subject you cover."