more news
U-View Newscast Production Class Prepares Students for the Real World
Friday, June 20, 2014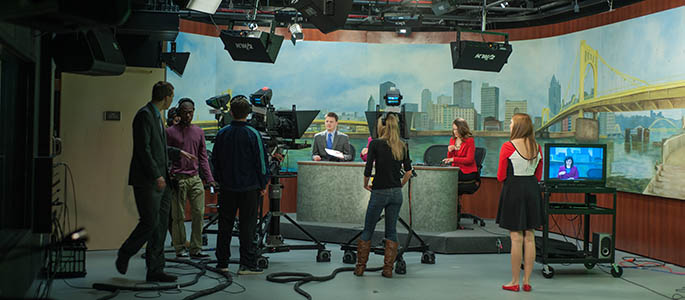 School of Communication students prepare their live newscast, Point News, in the University's television studio.
For students seeking a career in broadcast journalism, the U-View newscast production class provides hands-on opportunities on-and off-camera.
Video: U-View Newscast Production Class
---
Related links
Team taught by adjunct instructors Michelle Wright, anchor and reporter at WTAE-TV, Maria Kakay, M.A. in journalism in mass communication alumna and a producer at WQED-TV, and Paul Coatsworth, Point Park University's studio supervisor, the class operates like a real newsroom.
"Michelle's class handles the on-air portion to provide story ideas, Maria's class produces the newscast and my class handles the technical production. We put it together just like a real television station puts together their newscast," said Coatsworth.
During the spring semester, students produced and aired 11 live newscasts of Point News on U-View, the University's campus TV channel.
"My role in the class was a reporter and an anchor, so I got to go out into the field to write, edit and get my story packaged together," said Chris Hoffman, a senior double majoring in broadcasting reporting and broadcast production. "Working with Michelle has been excellent because she's currently working in the field and knows what a news director is looking for and what it takes to land a job out of college."
According to Wright, who has 30 years of industry experience, Point Park students are ahead of the curve.
"Our students are doing what people are doing at the TV stations in town - they've covered all types of stories," Wright said. "All of the professors here do a great job in getting students ready for the real world. Point Park has an edge when it comes to preparing students to get a job."
Kakay said her advice to students seeking a career in the industry is to take advantage of the opportunities available to them in college.
"This newscast is a great example of how you can really get to know what is expected of you once you get a job. Be ready to do all that you are asked of," Kakay said. "Before you know it, you're ready to hit the street and do it for real."
More About: WTAE, broadcast reporting, U-View, School of Communication