more news
Conservatory Dance Company Presents World Premiere of Bound in Before
Monday, December 9, 2019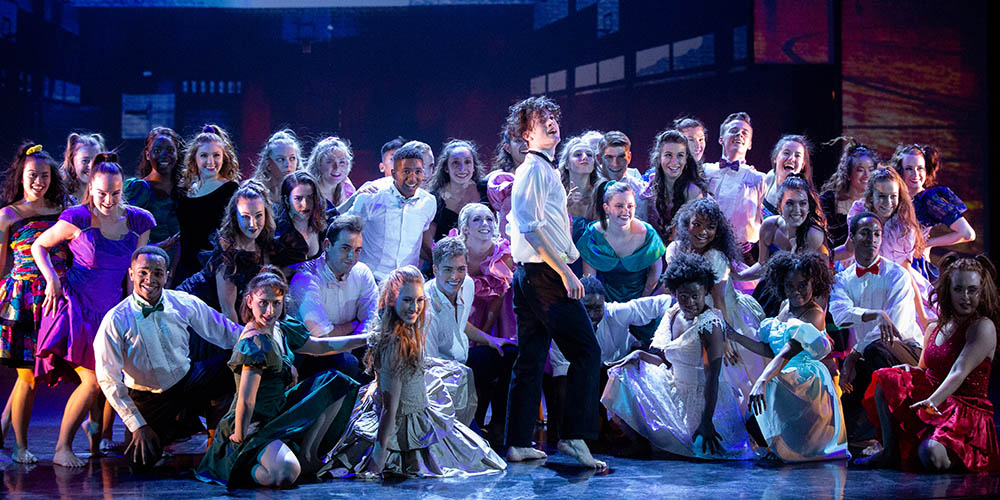 "We are delighted to present this artistic treasure to our audiences. It gives our students the tremendous opportunity to be part of something really special, and to grow as artists and performers."
Garfield Lemonius, M.F.A., chair of dance
Point Park University's Conservatory Dance Company presents the world premiere production of Bound in Before, conceived and written by Professor Kiesha Lalama, M.F.A., and her son, Jacob John White. The show is directed and features choreography by Lalama, and original music and lyrics by Jason Coll. 
"We are delighted to present this artistic treasure to our audiences," said Garfield Lemonius, M.F.A., chair of Point Park's dance department and associate artistic director of dance. "It gives our students the tremendous opportunity to be part of something really special, and to grow as artists and performers."
Bound in Before is a dance theatre piece; a reflectional tale about an everlasting bond between a man and a woman that is sure to hit home and resonate with anyone that remembers the magical memories of their first love.
We meet Mickey McWilliams and Claire Henderson in current day. Mikey's triumphant return to his hometown opens a floodgate of memories surrounding his childhood sweetheart, Claire. The two reminisce and relive their joyful journey from the mid-80's through 90's, reflecting on early middle school dances, neighborhood flashlight tag, basement house parties, prom and graduation. Their relationship dissipates as a result of societal and personal pressures. Twenty years later, fateful circumstances reunited these two entwined souls. Will their love forever be Bound in Before?
"Bound in Before is so joyful; it will make audiences smile," Lalama said. "It will allow folks to reflect on the treasured memories of their own childhoods. It's a family-friendly show, and perfect for the holidays." 
Lalama and Coll have been collaborating for more than 25 years, and this is the first time Lalama has worked with her son in this capacity.
"For years, he's been helping on the side and in the wings. Now, it's his time to shine. It's been quite special, and a truly magical collaboration among the entire artistic team." 
Additionally, as a dance theater piece, the cast of 45 dancers and six understudies had the opportunity to explore the power of storytelling on stage.
Ticket Information
Bound in Before runs Dec. 13-15 in the PNC Theatre in the Pittsburgh Playhouse. Visit www.pittsburghplayhouse.com or call 412-392-8000 to purchase tickets. 
More About: Conservatory Dance Company, faculty, Pittsburgh Playhouse, dance