more news
Acting major Luke Halferty tackles iconic role in his first REP show 'Of Mice and Men'
Thursday, October 2, 2014
Student Luke Halferty (left) played Curley in The REP's Of Mice and Men, Sept. 5-21 at the Pittsburgh Playhouse. View more photos.

Luke Halferty, a senior acting major, landed a supporting role playing Curley in The REP's production Of Mice and Men, a timeless and heartwrenching tale of two migrant workers in the Great Depression. The REP is Point Park University's professional theatre company.
Though Halferty was excited to be cast in Of Mice and Men, he admits he was a bit intimidated as a student because this was his chance to work side-by-side with professional actors.
"Of Mice and Men is such a classic story, and I could only hope that I would do it justice. Everyone working with The REP always puts on a great show," Halferty said.
Halferty is no stranger to the stage. He's been cast in several Point Park Conservatory Theatre Company performances and had the opportunity to perform with two professional theaters. He attributes his success to his Point Park experience.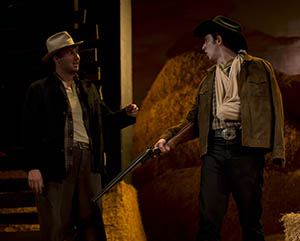 "I wouldn't be where I am today without Point Park," he said. "The teachers are here to help you, not to help themselves, and I think that's what is so great about this program. Not to mention the fact that everyone I get to work with is basically theatre royalty!"
Halferty is also ecstatic to be involved in one of his favorite shows.
"I'm so lucky to have been cast in the theatrical versions of some of my very favorite books. I played Dallas in The Outsiders and thought that was the opportunity of a lifetime. And now adding Curley to my resume - it's a dream come true!"
After graduation, Halferty plans to stay in Pittsburgh and travel to New York to audition for "anything and everything" he can.
"Who knows, maybe one day I'll be back at Point Park giving students the same advice that made me the actor that I am today," he said.
Text by Annie Tomak, a sophomore public relations and advertising student

More About: Conservatory of Performing Arts, Conservatory Theatre Company, Pittsburgh Playhouse, acting