more news
Alessia Ruffolo Selected as Dancer at Tanztheater-Staatstheater Kassel in Germany
Thursday, May 12, 2016
Meet Alessia Ruffolo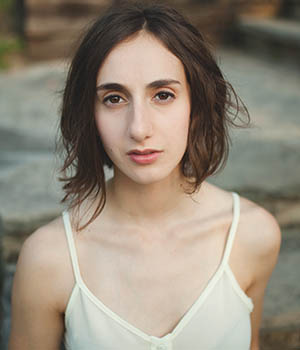 Current role: Dancer, Tanztheater-Staatstheater Kassel, located in Kassel, Germany
Degree pursuing at Point Park: B.F.A. in Dance
Expected graduation: May 2017
Hometown: Toronto, Canada
High school: Michael Power-St. Joseph High School
Scholarship from Point Park: Artistic Achievement Award
Hobbies/interests: Traveling, foreign languages, rock climbing, history and music
LinkedIn: Alessia Ruffolo
How did you land your role as a dancer at Tanztheater-Staatstheater Kassel?
I attended Springboard Danse Montreal, a summer dance intensive directed by Alexandra Wells, that connects dancers with renowned companies from all over the world.
While I was there, I met Johannes Wieland, Tanztheater director of Staatstheater. We kept in touch throughout the year, and I had the opportunity to work with him again during my second summer at Springboard.
After the final performance at Springboard, Johannes invited me to join his company at Staatstheater for the 2016 season. I was extremely thrilled and honored to be selected! I'm also excited to share that I will be returning to dance at Staatstheater during the 2017 season.
What have you learned during this experience at Staatstheater?
This is my first real dance job, so I feel as though I am constantly learning what it means to be an artist; to take classes, rehearse, communicate and express my ideas in a professional manner. I am learning how to be a part of a company environment while also finding balance between work and life.
What is it like training in Germany?
One of the most amazing things about dancing in Germany is the support and respect the culture has for the arts. The theaters have access to so many resources that allow the choreographers and dancers to take immense risks. This allows for the creation of innovative work. I've felt an immense amount of support from the general public, not only those involved in the arts, but from the entire community. It's a cool feeling to have a stranger congratulate you on the street because they recognize you from the show they saw.
How will you incorporate what you've learned into the remainder of your training at Point Park?
Being able to work in an environment with dancers who have real-world experience is a treat. I feel as though I am constantly learning from their maturity and seasoned work ethic. This mentality is something that I will take with me into every work and dance environment I encounter.
What do you like most about Point Park?
What impresses me the most about Point Park's dance program is the versatility within the program. The facilities are incredible and the faculty are extremely talented and supportive.
Point Park's dance program has allowed me to hone in on all of my skills as a performer and creator, thus laying the foundation for me to develop my own voice as an artist. It has also given me the opportunity to connect with various choreographers and dance companies in rehearsal and performance settings.
Explore Point Park's Dance Program
More About: dance, scholarships, Conservatory of Performing Arts, study abroad