more news
Alumnae Ali Geroche and Anaya Bobst Land Prestigious Dance Internship with The Yard
Thursday, August 24, 2017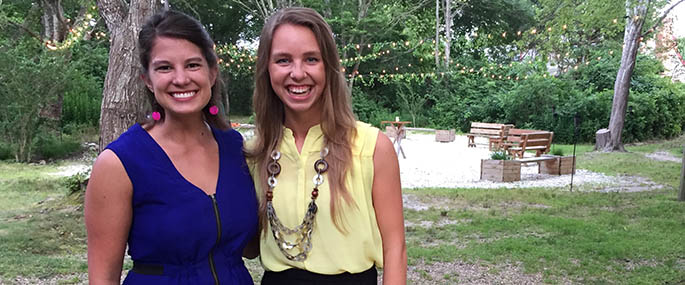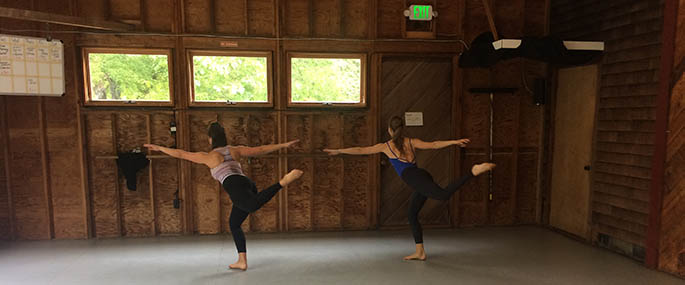 (L-R) Ali Geroche and Anaya Bobst
Dance alumnae Ali Geroche and Anaya Bobst spent the summer of 2017 interning for The Yard, a non-profit dance residency and performance center on Martha's Vineyard.
"Many of The Yard's former staff and interns have come out of the dance and theatre programs from Point Park," said Holly Jones, director of artist services. "We absolutely love Point Park alumni for their strong work ethic, discipline and creativity."
Below, the alumni discuss their roles at The Yard and how Point Park prepared them for this prestigious internship opportunity.
Meet Ali Geroche, artist services intern
Major: B.F.A. in Dance, April 2017
Scholarships: Artistic Achievement and Dean's Academic
Hometown: Loveland, Colo.
High school: Loveland High School
"Ali is focused, driven, positive, a hard worker and a beautiful dancer. The work she has done during her internship has contributed to the overarching mission of The Yard in supporting artists in their creative processes, performances, education, and civic engagement across all ages and cultural populations of Martha's Vineyard." - Holly Jones, director of artist services
Tell us more about The Yard and your key responsibilities.
In addition to offering creative residencies for contemporary dance artists and presenting public performances, The Yard curates several robust educational and community programs.
As the artist services intern, I was responsible for ensuring the artists-in-residence had access to everything they needed. My tasks ranged from booking artist travel, overseeing The Yard's merchandise, planning our annual benefit and much more.
Describe the intensity of Point Park's B.F.A in dance program.
The B.F.A. program is very rigorous, and focuses primarily on physical training in order to prepare students to be articulate and ready to adapt to various choreographic approaches and visions. This level of intensity has given me the confidence that I can effectively balance long, physically and emotionally demanding days with my other responsibilities and interests. I chose Point Park because students of all dance backgrounds and body types displayed a level of technical excellence that I desired. I was eager to attend a university that would provide me the opportunity to become a more expressive performer.
Who influenced you the most at Point Park?
My professors, Jason McDole and Dan Karasik, had the most influence on me in the studio at Point Park. Jason empowered me to work at a capacity I did not know I was capable of, all the while keeping me grounded in my personal values and sense of integrity. Dan was one of the first choreographers to believe in me. He encouraged me constantly, challenged my self-doubts, and entrusted his work to me.
Outside of the studio, I worked with the Dean of Student Life, Michael Gieseke, and the Director of Student Life, Amanda Anderson. Their mentoring and support over the three years I worked for the Office of Student Life also largely impacted my college experience.


Meet Anaya Bobst, development/marketing intern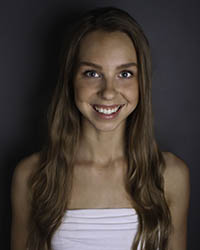 Major: B.F.A. in Dance, April 2017
Minor: Entrepreneurship
Scholarship: Artistic Achievement and Dean's Academic
Hometown : Stockholm, Sweden
High school: Tibble Gymnasium
"Anaya is an exceptional young woman. Her work in development for the organization has been second to none in efficiency, clarity, and nuance in a field where relationship building and intuitive thinking are key." - Alison Manning, executive director and co-producer
Tell us about your internship experience.
Some of my responsibilities included: press releases, memberships and donations, tax letters, thank you notes, writing final reports for awarded grants, ticket sales and planning The Yard's annual benefit event. I was also involved in the hospitality of artists, taking care of campus logistics, as well as technical production and property preparations and strikes for receptions, shows and events.
How did this experience prepare you for your career?
This experience challenged, demanded, and stimulated not only my ability in the tasks given, but also my skills in interpersonal communication, adaptability, customer service, creativity, problem solving, innovation and collaboration. For me, these are all key aspects to building a network and work experience in the dance field I desire, and prepared me for my career in many ways.
Why did you choose to pursue a degree in dance at Point Park University?
I was looking for a well-rounded dance education with possibilities of an additional minor. Point Park was one of the few B.F.A. programs that I found in the country that offered modern, ballet and jazz for all four years, plus the option for a double major or a minor.

The guidance I received from the Office of International Student Services and the Department of Dance was incredible. I had such a good feeling about my future at Point Park. In addition, I took a virtual tour campus, watched videos of performances and classes, and ultimately, I chose to trust my instincts and move from Stockholm to Pittsburgh.
Is there anything else you would like to add?
I would like to thank all of my mentors and teachers for making my college experience the best I could ever wish for as a dance major and a member of the Honors Program. Especially Ruben Graciani and Jason McDole, who have influenced, challenged, motivated and encouraged me inside and outside of the studio. I am beyond grateful for their inspiration and teachings. I have become the person and dancer I am today because of them.
More About: Conservatory of Performing Arts, alumni, faculty, scholarships, dance, internships, Honors Program