more news
Alumnus Performing in Tour of West Side Story Hosts Master Class on Campus
Wednesday, March 19, 2014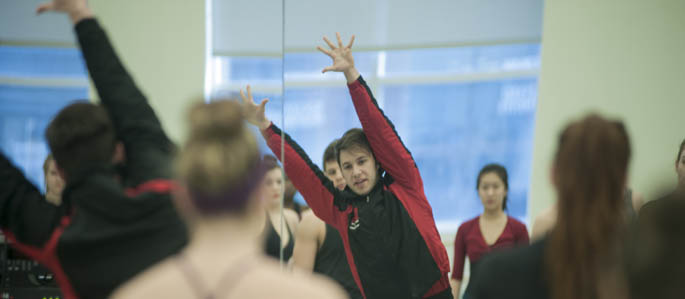 Alumnus Jonathan Freeland - who is currently performing in the North American Tour of West Side Story - hosted a master class on campus with Conservatory of Performing Arts students to teach choreography from the show.
Meet Jonathan Freeland
Current role: Male jet/shark swing, North American Tour of West Side Story
Degree earned at Point Park: B.A. in musical theatre with a minor in dance, 2013
Hometown: Powder Springs, Ga.
Now living in: Brooklyn, N.Y.
Hobbies/interests: Songwriting, photography, graphic design and anything having to do with coffee.
What approach did you take to teaching the master class with current students?
I approached teaching the song ("Cool" from West Side Story) in nearly the same way I learned it during the audition process. Because the piece I taught is just as driven by the acting as it is by the movement, I wanted to make sure that the students understood the meaning behind each piece of choreography. The class wasn't just about learning steps, but really about being able to apply the training the students receive in their acting classes, just as much as the technical training they receive in their dance classes. The class was great!
Why did you choose to attend Point Park?
The program really speaks for itself when one looks at the graduates. The fact that there are so many working in the field (on national tours, on Broadway and some of the most famous stages in the world) was a huge draw for me. I also loved the number of opportunities both in and outside of school that I would be able to take advantage of as a student. I also loved that the school was located in an urban area, and it actually made the move to New York City much easier. As a senior, I was allowed to audition in New York City which proved to be invaluable for me to assess my readiness and prepare accordingly while still under the guidance of the faculty.
What was it like going to school in Downtown Pittsburgh?
It was the perfect setting for me personally since the city is so inundated with theater. If there was anything artistic that I wanted to seek out, I felt I could find it in Pittsburgh.
Describe the types of hands-on opportunities you had at Point Park.
My first year at Point Park, I was required to crew two productions where I learned what it takes to make a production run smoothly, and in the long run gave me a much greater appreciation for how much teamwork truly goes into making any given performance a success. My first show with the Conservatory Theatre Company was Thoroughly Modern Millie and I was cast in the ensemble. While it was not a leading role, it gave me a chance to learn how the professional process was conducted.
Describe the types of training you had at Point Park.
I don't think I really appreciated how lucky I was to work with the artists I did at Point Park until I had graduated. These are, by far, some of the best at their craft of any industry professionals I have worked with to date. I can, without a doubt, attribute my professional successes to the training I received from the staff and the numerous guest directors I had the pleasure of working with during my time as a student.
Anything else you would like to add?
I would have to say that the best thing I did while at Point Park was stretch myself to the absolute limit in every facet of the arts that I possibly could. For example, when I wasn't taking class or in rehearsal, I was writing and recording my own music which opened doors I would have never known existed otherwise. Only you can limit yourself when you are receiving such amazing training.
More About: success story, alumni, dance, master class, Conservatory of Performing Arts, musical theatre