more news
Arthur Miller's 'All My Sons' Opens New Season at Pittsburgh Playhouse
Wednesday, August 21, 2013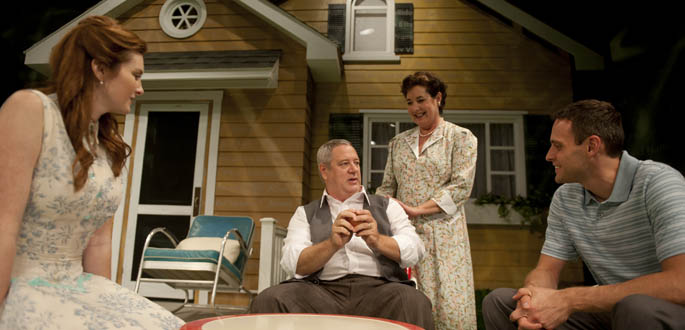 A scene from All My Sons. Check out more photos below.
The REP, Point Park University's professional theatre company, opens its 2013-14 season with All My Sons, Arthur Miller's riveting story of a seemingly all-American family caught up in the struggle between personal responsibility and their duty to the nation.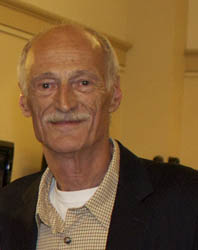 Robert A. Miller
Directed by Robert A. Miller (son of Arthur Miller), All My Sons previews on Sept. 5 and runs Sept. 6-22, Thursday through Saturday at 8 p.m., and Saturday and Sunday at 2 p.m., in the Rauh Theatre at the Pittsburgh Playhouse.
All My Sons, tells the story of a loving family man and successful businessman who harbors a tragic secret. While one son is presumed dead, missing in action during the war, his other son prepares to propose to the woman he loves, and, in one emotional day, his world begins to unravel.
All My Sons features Assistant Professor Philip Winters, adjunct faculty member Penelope Miller Lindblom and eight Conservatory of Performing Arts alumni.
Scenic design is by Associate Professor Stephanie Mayer-Staley, sound design by adjunct faculty member Steve Shapiro, costume design by adjunct faculty member Joan Markert and lighting design by professional designer Lloyd Sobel. Alumna Alicia DeMara is the stage manager.
Related Links
Conservatory Requirements
Audition and Interview Process
Request Information
Schedule a Campus Visit
Robert A. Miller has served as a distinguished master artist in residence at the Conservatory of Performing Arts since 2009. An acclaimed Hollywood producer, director and screenwriter, he is best known for producing The Crucible, nominated for two Academy Awards.
Miller also produced Focus, and his directorial credits include Company of Angels in Hollywood and Bend in the River. He has directed several plays for The REP, including his first-ever production of his father's Pulitzer Prize-winning play Death of a Salesman in 2008. He also directed The REP's world premieres of The Umbrella Man in 2010 and A Child's Guide to Heresy in 2011, and is a producer of the movie The Umbrella Man, filmed in 2012 in Pittsburgh and Dallas.
Ticket Information
Tickets range in price from $24 to $27; preview tickets are $15. Tickets can be purchased by calling the Pittsburgh Playhouse box office at 412-392-8000 or online at www.pittsburghplayhouse.com.
In the News
More About: faculty, Pittsburgh Playhouse, The REP, Conservatory of Performing Arts