more news
'August: Osage County' opens vibrant season at the Pittsburgh Playhouse
Friday, September 7, 2012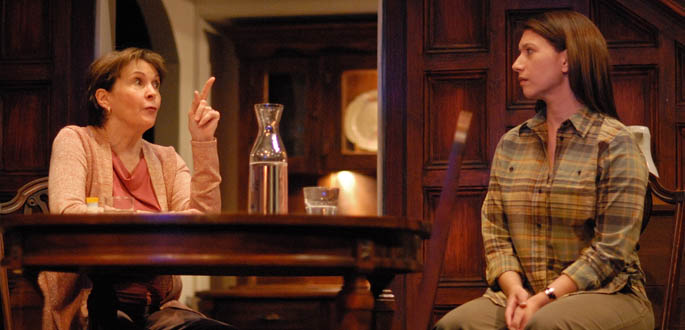 A scene from August: Osage County at the Pittsburgh Playhouse.

The REP, Point Park University's professional theatre company, launches the 2012-13 season at the Pittsburgh Playhouse on Sept. 7 with a pillar of modern drama, August: Osage County by Tracy Letts. The recipient of the Pulitzer Prize and five Tony Awards in 2008, August: Osage County runs through Sept. 23. John Shepard, professor in the Conservatory of Performing Arts, directs a cast brimming with Point Park faculty and alumni.
"It's an epic American drama. It's one of the greatest American plays of the last decade," said Shepard.
Photo Gallery
Click photo for more images.
Related links
Theatre program
Conservatory requirements
Request information
Letts' August: Osage County is a wild ride that tells the story of the Westons, a hysterical yet horrifically dysfunctional clan that comes together at their Oklahoma home when the patriarch disappears. Forced to confront unspoken truths and secrets, the family must also contend with Violet, a pill-popping, deeply unsettled woman at the center of this storm.
The REP, the only professional theatre company of its kind housed within a university, gives rich artistic opportunity to faculty, students and alumni alike. The 13-member cast features four COPA faculty members, two M.F.A. candidates and five alumni. The production is stage-managed by COPA alumna Alicia DeMara, an equity stage manager. She is supported by assistant stage manager Nik Nemek, a junior stage management major. Fourteen Conservatory freshmen, who hit the ground running with one of the biggest productions of the season, make up the production crew.
Meghan Ginley, a 2012 theatre graduate and theatre showcase participant, is assistant director. "It's interesting to work with former teachers as colleagues. They respect me. It says a lot about them and it means a lot," Ginley said.
"Point Park is unique in the sense that we have an apprentice-type program. Students are learning from people practicing their art professionally, and some become our colleagues. Meghan is fantastic - incredibly smart and insightful," Shepard said.
The Pittsburgh Playhouse houses four production companies - The REP, Conservatory Theatre Company, Conservatory Dance Company and Playhouse Jr., and welcomes more than 30,000 patrons during the course of the year.
August: Osage County runs Sept. 7 - 23, Thursday through Saturday at 8 p.m. and Saturday and Sunday at 2 p.m.
Ticket information
Tickets range in price from $24 to $27. To order a season subscription or purchase individual tickets, contact the Pittsburgh Playhouse box office by phone at 412-392-8000 or online www.pittsburghplayhouse.com.