more news
Cinema Alumnus' Short Film Awarded Second Prize at Steeltown Film Factory Competition
Wednesday, May 22, 2013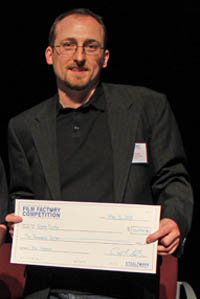 Glenn Syska, a 2004 Point Park cinema alumnus, won second prize at the fourth annual Steeltown Film Factory competition on May 11.
Syska will be awarded $10,000 to produce his work, The Sketch, in Pittsburgh. The short film follows a lonely artist who falls in love with one of his drawings, which comes to life.
Alumni Jarrett Fisher-Forester (The Escapist) and Kevin Fuller (Cruelty Towards Animals) also entered their works in the competition.
The Steeltown Film Factory competition provides an opportunity for local, emerging screenwriters and filmmakers to have their work critiqued by industry professionals.
This year's panelists included Pittsburgh native Rusty Cundieff, a Hollywood director and actor, Asher Garfinkel, founder of Readers Unlimited and Oscar-nominated editor Douglas Crise.
Learn more
Learn more about the cinema arts program at Point Park University.
More About: Conservatory of Performing Arts, cinema arts, alumni