more news
Cinema Production Major Receives Outstanding Graduating Senior Award
Wednesday, May 23, 2012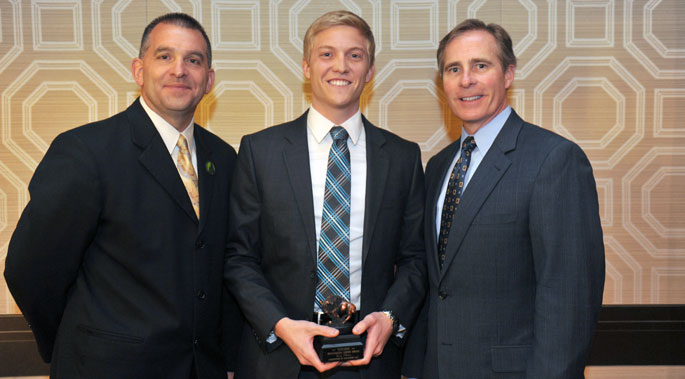 Cory Stoken with Keith Paylo, dean of student affairs and dean of students, (left) and Paul Hennigan, Ed.D., University president, at the annual Outstanding Student Awards on April 27.

Meet Cory Stoken
Hometown: North Huntingdon, Pa.
Degree earned: Bachelor of Arts in Cinema Production with a concentration in producing
Minor: Business Management
Graduated: May 2012, a year ahead of his class
Why did you choose to attend Point Park University?
I chose Point Park University because I grew up near Pittsburgh and wanted to go to a school close to home. I absolutely love the fact that Point Park's campus is located in Downtown Pittsburgh and I really like the feel of living in a city. You don't necessarily need a car, you can walk to just about anywhere, you can take a bus or the T to just about anywhere else. I also heard a lot of great things about the cinema and digital arts program and received scholarships.
What advice do you have for today's students?
Take classes outside of your major. Whether you're in the Conservatory of Performing Arts or any other program, its good to expand upon your knowledge of all subjects, as you never know where your career may lead you. Though I was a cinema major, I minored in business management and am now realizing just how relevant those classes are to my career.
What do you think makes the cinema department so unique?
Each and every professor in the cinema department cares about their students. They want you to succeed. They shaped my academic career here at Point Park and contributed to helping me form my goals and future plans.
What's next for you?
While at Point Park I interned with a local production company, Crows Run Pictures, and am now the production manager on their first independent feature film. I'm also producing 3-4 short films and a feature length documentary with cinema professor Chris Sepesy and recent graduate, Eric Odioso. I plan to move to Los Angeles next fall and hope to work in the mailroom of a talent agency to work my way up. My ultimate goal is to work for a film studio, such as Paramount or Warner Brothers, as a studio executive.