more news
Conservatory Dance Company Presents World Premiere of 'Five'
Tuesday, February 2, 2016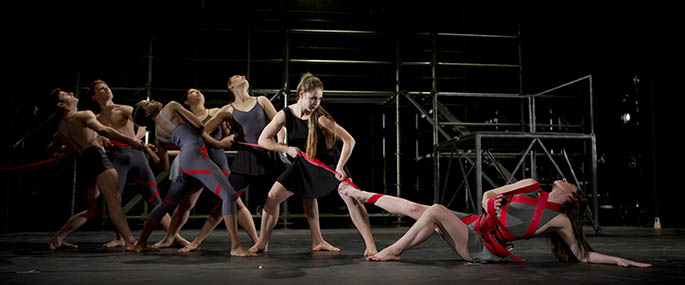 Point Park University's Conservatory Dance Company presents the world premiere of Five - Feb. 5-14 at the Pittsburgh Playhouse - a collaborative work by Rubén Graciani, associate professor and dance chair, and Kiesha Lalama, associate professor.
"I see this entire performance as a real sense of community and collaboration," said Graciani. "Kiesha and I work really well together. Our styles blend. We both feel it's important for our students to see faculty working with one another on such a huge production."
Five - which takes the audience on a sensory journey, exploring the resiliency and perseverance of the human condition - features contemporary choreography with classical music performed by the Bach Choir of Pittsburgh, several of whom are Point Park alumni.
The performance invites the audience into the lead dancer's mind as he faces struggles and challenges but learns to rally, push back and rebuild, all by using his five senses and recognizing fate and destiny.
"The dance tells a very human story, with which the audience can relate," said Lalama. "This is a story about facing obstacles but knowing and understanding we all have the power to come through and find peace."
Ticket Information
Five runs Feb. 5-14 in the Rockwell Theater at the Pittsburgh Playhouse. Performances are Friday and Saturday at 8 p.m. and Saturday and Sunday at 2 p.m.
Tickets are $20-24; student and senior tickets are $10. Group discounts are also available. Tickets can be purchased by calling the Pittsburgh Playhouse box office at 412-392-8000, or online at www.pittsburghplayhouse.com.
In The News
More About: Pittsburgh Playhouse, faculty, dance, Conservatory of Performing Arts, Conservatory Dance Company