more news
Creation, Collaboration and Improvisation Theme of Pilobolus Master Class with Dancers
Tuesday, February 28, 2017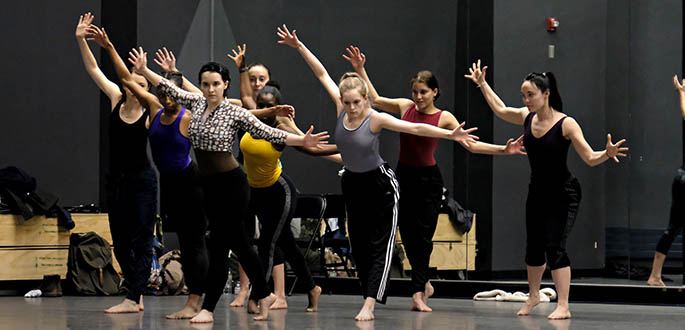 Five company members from Pilobolus' Shadowland - who were in town at the Byham Theater as part of the Pittsburgh Dance Council season - led a master class with dance students in the George Rowland White Performance Center Feb. 10.
Photo Gallery
---
Learn More
Dance auditions
Dance faculty
Apply online
Request information
"Our goal was to take this advanced group of trained, young professional dancers and open them up to something they don't usually get in their college classes - creation, collaboration and improvisation," said Sayer Mansfield, a Pilobolus company member who co-taught the class.
"We put the students through improvisational exercises, worked on teamwork building and ideas that helped to open up awareness to their space and body," said Derion Loman, company member and co-teacher.
Joi Ware, a sophomore dance and sports, arts and entertainment management double major from Booker T. Washington High School for the Performing Arts in Dallas, Texas, said the key message she took away from the class is the importance of teamwork in dance.

"Almost every exercise we did during the master class involved a partner or a group," Ware said. "You constantly have to be conscious of your surroundings and the people around you."

Bryanna Heilman, a senior dance major from Lebanon Catholic High School in Lebanon, Pa., said taking a class with Pilobolus was a valuable and humbling experience.
"Having the opportunity to work with professionals centered my thinking and refocused my mindset," Heilman said. "This experience helped me to remember that the dance world isn't an exclusive club that only the elite belong to."
Ware added: "Point Park has always been great about bringing in professional companies when they're in town, and that's one of the things that drew me to the University. It is an amazing experience to work with professionals."
Photos by Brian Cohen
More About: dance, George Rowland White Performance Center, guest artists, master class