more news
Dance Alumnus Returns to Campus to Host Master Classes with Alonzo King LINES Ballet
Wednesday, October 18, 2017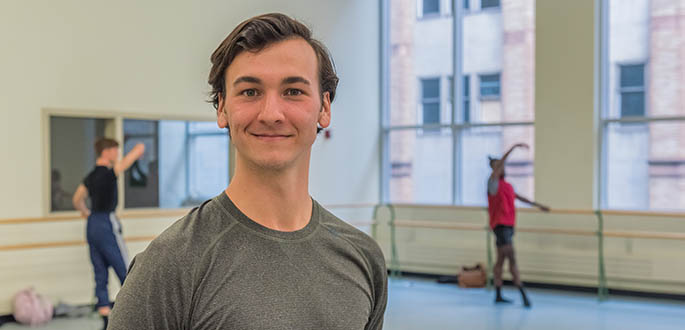 Dance alumnus James Gowan - a company member with Alonzo King LINES Ballet - returned to campus to host master classes with students Oct. 8-10 in the George Rowland White Performance Center. Gowan was in town with Alonzo King LINES Ballet for performances at the Byham Theater in the Cultural District.
"It was really cool and inspiring to work with a successful alum," said Ashlynn Woelbling, a freshman dance major from Fort Zumwalt High School in St. Louis, Mo. "I can only hope and aspire to be like him when I graduate from Point Park."
While on campus, company members from Alonzo King LINES Ballet led five master classes, a repertory workshop, a lecture demonstration and a question-and-answer session with students.
"This was a wonderful opportunity for our students to work with professionals," said Professor Susan Stowe. "It was also an incredible experience to see them perform and work in Point Park's dance studios."
Learn more about Gowan's experiences at Point Park as a student and as a professional dancer in the Q&A below.
---
Meet James Gowan
Job title and employer: Dancer, Alonzo King LINES Ballet
Degree earned: B.F.A. in Dance, 2015
Hometown: Gilbert, Ariz.
High school: Mesquite High School
Now living in: San Francisco, Calif.
How did the B.F.A. in dance program prepare you for your career?
Balancing school work during an intense dance schedule is not for the meek. Point Park's rigorous dance program provides students the ability to grow and have a taste of the real world before they step into it. Additionally, the diverse program allows students to explore all that dance can be. I learned just as much from the students as I did from the teachers. When I look back I see that the possibilities were endless.
Tell us about your current job.
Dancing for Alonzo King LINES Ballet has been the most rewarding experience of my life. The heightened awareness of the mind-body connection in this work is transcendent. My responsibility is to be present in the work everyday, whether it be self-study time on the side while Alonzo is working with others, or on the stages in the various countries we tour. Also, being accountable for what needs to be done, I hold a lot of responsibility for myself in the work. That is one thing I love most about it.
What were the key messages for students during your master class?
I wanted to instill the ability to share instead of show. This is an invaluable skill in the professional world. Sharing yourself is an act of vulnerability, whereas showing is a selfish act that means you are trying to portray something that you are not; I wish I learned this lesson while I was in school.
What advice do you have for dance majors?
Ask for it. We only get to dance for a short time during our career, so ask questions about everything you can. Ego gets in the way, clouds your mind and prevents you from learning more. We get so stuck in our ways and training that we don't get to see what else is out there.
Photo by Nick Koehler, freshman photography major
More About: guest artists, success story, dance, alumni, master class, Downtown Pittsburgh, Conservatory of Performing Arts, George Rowland White Performance Center