more news
Dance Department Hosts The Renfrew Center to Educate Students About Eating Disorders
Friday, September 29, 2017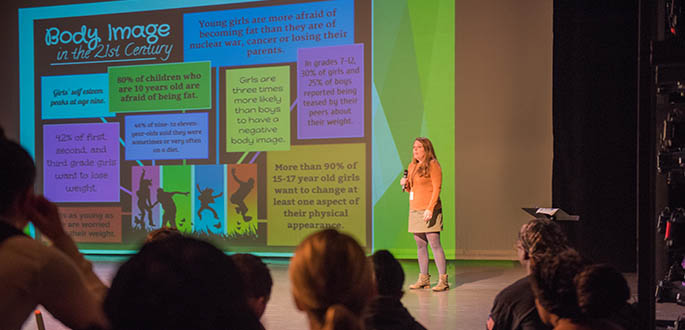 A representative from The Renfrew Center speaks to dance majors in the GRW Performance Center

Point Park University dance students and faculty learned about body image and eating disorders from The Renfrew Center - a nationally known organization that treats eating disorders and other behavioral health issues - during an on-campus workshop this semester.
"To my knowledge, this is the first time the dance department hosted a presentation on eating disorders," said Garfield Lemonius, associate professor. "Our dancers total well-being is important to us, and we want to ensure that our students are provided with access to resources to be truly successful at Point Park."
The dance department partners with Point Park's athletic trainers, who focus on prevention and treatment of dance-related injuries, as well as Taffie Bucci, LCSW, director of counseling services, to educate and empower students about their mental health.
"I serve as a resource on campus for individual counseling if you have or think you have an eating disorder," Bucci said. "There is no shame ever in asking for help. I am here for you."
During the presentation, students were provided information about treatment options available at The Renfrew Center of Pittsburgh's facility, located in Oakland, a short shuttle ride from campus.
"This presentation had a friendly, informal tone and it provided students space to think about the issues surrounding eating disorders," said Colleen Hooper, assistant professor.
Lemonius added: "This is the first step of many, aimed at bringing to the forefront issues that affect a dancer's mental health and well-being."
First-Person: Feedback from Point Park Dance Students
"Having The Renfrew Center on campus is a reminder that the school cares about our well-being. It's nice to hear about the options and help we have access to at Point Park." - Alexis Gleason, senior B.A. in dance and B.S. in sports, arts and entertainment management double major from Bethel Park High School in Bethel Park, Pa.

"It's comforting to know that the dance department cares about the health and safety of its students. Eating disorders are a difficult subject to talk about, and I am grateful Point Park was willing to bring in an expert to have this difficult conversation." - Katrina Shellenberger, senior B.A. in dance major from Pennridge High School in Perkasie, Pa.

"I was surprised by how many young people struggle from poor body image. I definitely think that there should be more counseling options and educational opportunities for those who want and need to learn more about eating disorders and self-worth." - Adam Flagella, sophomore B.A. in dance major from Savannah Arts Academy in Savannah, Ga.

"It was refreshing to hear and understand more about this organization. I am thankful Point Park gives us the opportunities and resources to further our education in as many ways as possible. I feel more confident in being able to come to the school if I were ever in need of help." - Chezney Douglas, sophomore B.F.A. in dance major from Las Vegas Academy of the Arts in Las Vegas, Nev.
Photos by Nick Koehler, freshman photography major
More About: student workshop, ballet, dance, modern, Conservatory of Performing Arts, Bethel Park Senior High School, jazz