more news
Dance Major receives Academic Excellence Award
Thursday, May 31, 2012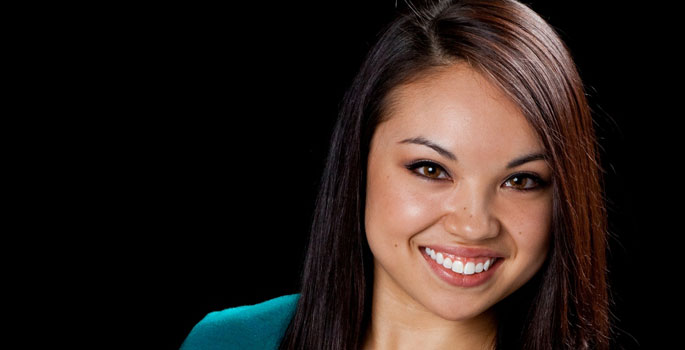 Kimberly Marcotte, a dance major in the Conservatory of Performing Arts, received the Academic Excellence Award at the annual Outstanding Student Awards on April 27. Photo by Cheryl Mann

Meet Kimberly Marcotte
Hometown: Virginia Beach, Va.
Degree earned: Bachelor of Arts in Dance with a dual concentration in Ballet and Jazz
Graduated: May 2012
Why did you choose to attend Point Park University?
In the summer of 2007, I received a full scholarship to Point Park University's International Summer Dance program. I loved the program not only for the intense schedule, but also for the versatile training it had to offer. I had ballet, modern and jazz every day, plus rehearsals. Experiencing the summer intensive had much to do with my decision to attend Point Park. I graduated high school and thought I was ready for the professional world. After discussing my future with my parents, I was convinced to give college a chance. What drew me towards the school was the versatility. I began my freshmen year as a ballet concentration, but soon discovered what Point Park had to offer in jazz and I decided to add more contemporary to my training. During my four years, I learned that I can't categorize the type of dancer that I am. Point Park University helped shape the artist I am today.
What advice do you have for incoming freshman at Point Park to make the most of their college career?
Be open-minded. It is inevitable that you will struggle to find your place; everyone does their freshman year. It's all about facing challenges, overcoming obstacles, and learning as you go. Stay humble, be optimistic, and with hard work believe that fate will take its course.
What is your favorite experience while you were a student?
At Point Park, I was blessed with some great performing opportunities. My favorite experiences were Toru Shimazaki's Bardo and Ohad Naharin's Minus 16. Through both works, I learned the importance of working with your peers. For high energy pieces such as these, you spend countless hours in rehearsal trying to perfect specifics and build the stamina required. It was also through these rehearsals that I bonded with my peers not only with the amount of time we spent with each other, but also feeding off of each other's energies on stage.
What's next for you?
This summer, I'm moving to New York City to continue auditioning for anything and everything. There is a lot of tough competition in the real world and it's difficult to land a job immediately following graduation. It's all about forming relationships by networking and working your way up from the smaller to bigger companies. I'm excited to start this new chapter in my life and cannot wait to see what is in store.