more news
Dance Majors Train with Sought-After Choreographers for Signature Spring Concert
Tuesday, May 17, 2016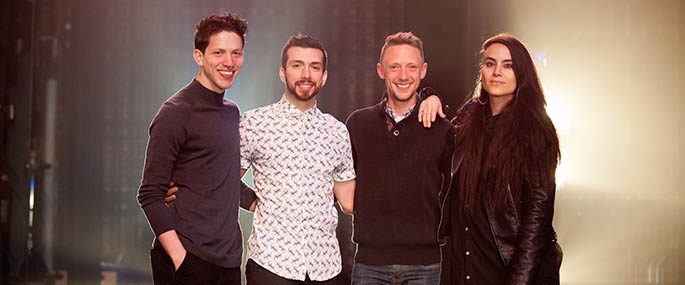 Austin Diaz, Jonathan Campbell, Matthew Powell and Sonya Tayeh at the Byham Theater, located in the Cultural District
More than 40 Point Park University dance majors trained with sought-after contemporary choreographers for the year-end performance of Conservatory Dance Company at the Byham Theater. Held April 14-16, the concert featured choreography by:
"Sonya Tayeh gave us the freedom to explore and push ourselves to places we didn't know we could reach," said sophomore Paige Devitt. "Working with a professional has prepared me for my future; I can't thank Point Park enough for providing me with this amazing opportunity!"
Tayeh, of So You Think You Can Dance, said the students inspired her during the audition and rehearsal process.
"Point Park University was one of my favorite places to work," she said. "Mentoring this talented group of students was an incredible experience. I am so inspired by their work ethic, their openness and selflessness in the process."
Freshman Jordan Leonard trained with dancer/choreographer Jaclyn Walsh who set Larry Keigwin's piece Tryptych.
"I feel I have grown tremendously as an artist and as a human after this experience," Leonard said. "Tryptych is a very intricate and detailed dance, and it pushed me beyond my comfort level."
Austin Diaz and Jonathan Campbell, co-founders/directors of MADBOOTS Dance, said Point Park students are among the best and most mature dancers they have worked with in a university setting.
"The thing that's most special about Point Park dancers is their support for their classmates," Diaz said. "They pushed each other and wanted to see the best in each other. In my opinion, I think that makes a very strong dance program."
Campbell added, "The students are so mature and so adaptable. We overloaded them with so much material and were blown away by their talent."
Powell, a noted ballet artist, offered his advice to students.
"Stay hungry and inspired throughout the entire creative process, and always reach for something new," he said.
In the News
Photo Gallery
More About: dance, Conservatory Dance Company, Conservatory of Performing Arts, guest artists