more news
Dance Students Perform, Connect with Industry Professionals in New York City
Thursday, May 16, 2013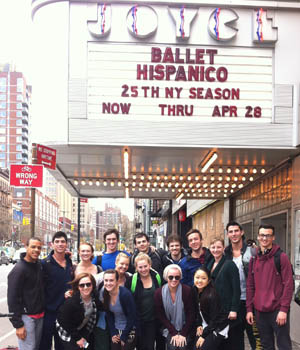 During the spring semester, Point Park University's Conservatory Dance Company performed Memoirs, choreographed by Assistant Professor Garfield Lemonius, at the New York City Dance Alliance Gala. Susan Stowe, chair of the department of dance, and Lemonius accompanied the group.
"This type of opportunity is a great learning experience and prepares our students for the professional world in dance," Lemonius said.
Sixteen Point Park dance students shared the Joyce Theater stage with principal dancers from The New York City Ballet, American Ballet Theater Studio Company and Cedar Lake Contemporary Ballet.
"It was an honor for Point Park students to share the stage with professional dancers," remarked Stowe. "They rose to the challenge and demonstrated a mature level of artistry and technical virtuosity."
At the gala, Kenny Corrigan, a senior dance major, met Rasta Thomas, a professional dancer, choreographer and founder of Bad Boys of Dance Company.
"Because of my performance, Rasta Thomas offered me a role in his upcoming world premiere of Romeo and Juliet," Corrigan said. "I would not be in the position I am today without the training I received at Point Park."
Senior dance major Oscar Carrillo said performing at the Joyce Theater was one of the biggest honors he has had as a dancer.
"Having the chance to dance on the same stage as many of my dance idols was amazing," Carrillo remarked. "Point Park's dance program prepared me to perform at the same level as other companies in the show."
Added Lemonius, "We had faith in the strength and talent of these students, and they represented themselves, the department and the work, with a high standard of professionalism and artistry."
In the news