more news
Faculty Profile: Meet Jason McDole, Assistant Professor of Dance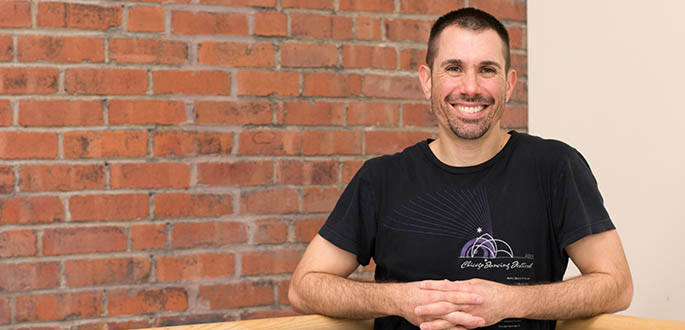 Jason McDole earned a B.F.A. from The Juilliard School in 1997. McDole received his formal dance training from Buddy Thompson, Paula Scriva and Pittsburgh Ballet Theater. He has danced in the companies of Twyla Tharp, David Parsons and Lar Lubovitch. Additionally, he was a founding member and assistant to Robert Battle of BattleWorks Dance Company and has taught and staged works throughout the United States and abroad. 
What is your teaching philosophy?
My teaching philosophy is definitely a focus on the foundational material (essentially the ABC's of dance). Dance is so complex, but the basics are really there to support it. It's like building a house; you have to build the foundation first so the layers around it don't slip away.
What classes do you teach?
Jazz
Modern
Dance Composition I, II
What can a student expect in your classes?
Absolute pristine focus. Ninety minutes is not a lot of time to learn dance, so I remind my students to support and respect each other in order to do their very best. My classes are very qualitative and intense, but fun. There's so much joy in discovering your body as you become a professional dancer.
What do you like most about Point Park?
The students! I love walking into my classes knowing that my students are there to learn about what they love. I find so much joy teaching young people who really want to commit to what's in their hearts.
What is your advice to dance students?
You're a person first, who happens to be a dancer. So just as hard as you're working on being a great dancer, you still have to work on growing as a person. Oftentimes, artists use dance as an escape and that's ok - that's part of the beauty of dance. But at the same time, you have to pay attention and remember to take care of yourself. Dancers are so passionate and so fueled by what they love to do that they tend to become mentally, physically and spiritually invested. It is so important to protect what it is they love to do.
Final thoughts?
For me, I'm home. I had a beginning at Point Park as a high school student in the pre-professional dance program, which launched me to New York City and back to Pittsburgh. I think everything in life happens for a reason. I'm very grateful to be a part of the dance department at Point Park.
More About: modern, jazz, dance, faculty, Conservatory of Performing Arts