more news
Faculty Profile: Meet Mark Burrell, Assistant Professor of Dance
Tuesday, December 13, 2016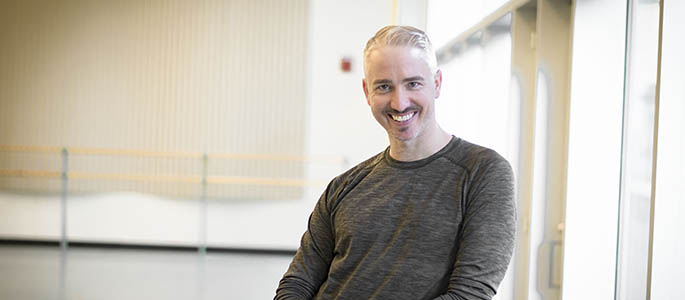 Mark Burrell - who joined the Department of Dance as an assistant professor in Fall 2016 - has performed on Broadway and internationally. He has served as associate and assistant choreographer of several Broadway shows, in addition to holding positions as dance captain and swing. He has staged numerous works throughout the United States and abroad, and performed in original works by Lar Lubovitch, Jiri Kylian, Nacho Duato, David Paker, Zvi Gotheiner, Chet Walker, among others. Burrell has trained with legends such as Gwen Verdon, Chet Walker, Ann Reinking, and two-time Tony Award-Winning Director Diane Paulus, and these experiences have influenced his teaching philosophy.
What led you to pursue a career in dance?
I do not know that I can pinpoint a moment in my life that led me to pursue a career in dance, except for the moment when I told my parents that nothing makes me feel better than dancing. My heart has forever been infected by the freedom of dance and its power to move others.
How do you bring your real-world experience into the classes you teach?
My real-world experience is the foundation of my classroom exploration. Stepping directly off of the Broadway stage into a studio has been exhilarating while watching the young artists cling to every word and detail of my personal stories that have shaped my career. I preach on the ideas of dedication, self representation, hard work and humility. These qualities encompass such a vast range of possibilities. One of the main focuses of my teaching is to encourage my students to discover their personal voice. I try to cultivate their studies by providing them with a gamut of styles - ranging from the classic foundations of jazz to the trending commercial world that is quickly shaping new aspects of the dance business.
What have you enjoyed the most as a professor in Point Park's dance department?
Becoming a professor here at Point Park has given me the hope that the lifespan of dance will continue through my personal legacy to each and every student who walks through my doors. The hunger that these students possess here excites me to come to work every day to the point that I don't consider it work, I consider it luck. Not many people get to walk into work and be inspired to continue to do what they love doing. That's my daily life. Passing on this pearl of wisdom to the next generation is very exciting.
What can a student expect in your classes?
I believe students can expect the reality of the business as well as the reality of their product to be discussed and finessed in my classes. I speak the truth and how to adapt to change for each and every opportunity we are given as artists.
Final thoughts?
Point Park provides an education of strong foundation, emphasizes the individual, and challenges its students to inspire new and creative art.
Hear more from Mark Burrell
Photo and video by Daniel Kelly, a freshman cinema arts major
More About: dance, George Rowland White Performance Center, faculty, Conservatory of Performing Arts, jazz