more news
From Point Park to Pittsburgh CLO: Summer Season Casts Students, Alumni On-and-Off Stage
Thursday, August 3, 2017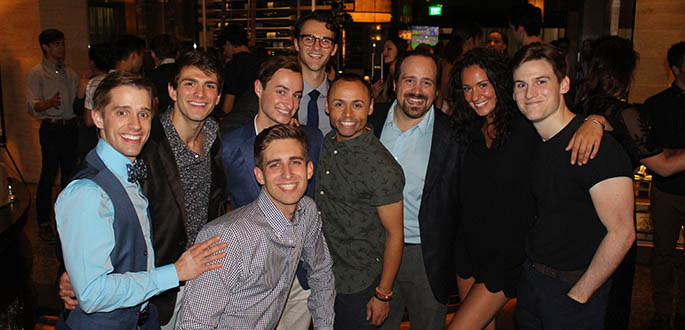 Back: Taylor Warren; middle (l-r): Grant Haralson, Vinnie Smith, Matthew Boyd, James Allen Washington, J. Alex Noble, Lindsey Bracco and Michael James; front: Javier Manente. Not pictured: Gavan Pamer, Yael Karoly, Kellyann Coyle, Hailie Hagedorn, Scott Kidwell and Olson Kelly.
This summer, 15 Point Park University Conservatory of Performing Arts students and alumni are working on-and-off stage in Disney's Newsies, In the Heights and Mamma Mia! at Pittsburgh CLO, located in the heart of the Cultural District. Learn more about how their Point Park experience prepared them for their careers.
What's it like returning to Pittsburgh to work down the street from Point Park?
Grant Haralson, Romeo, Disney's NEWSIES
B.F.A. in musical theatre, 2013
"Returning to Pittsburgh is always exciting; it's truly a great city that always feels like a home away from home. I love that every time I return, I see Point Park updating and expanding their facilities and their presence with their Downtown campus. I'm certainly grateful that my experiences at Point Park helped lead me to performing one of my dream shows at a well-renowned company like Pittsburgh CLO."
Olson Kelly, assistant company manager
B.A. in acting, 2017
"It's been really amazing to begin my career just down the street from where I received my degree. I love Pittsburgh, and was so impressed to see how much art and culture exists here. I love being able to work with so many of my classmates and friends."
What are your fondest college memories?
Scott Kidwell, video production intern
B.A. in screenwriting, 2017
"My professors and classmates were some of the most talented people I have ever met, but they were also so fun to work with. Classes felt like writer's rooms and creative meetings rather than lectures. To be able to work so closely with my fellow students on real films and scripts was an experience I always enjoyed."
Kellyann Coyle, ensemble, Mamma Mia!
B.A. in dance, musical theatre minor, 2017
"Being able to take multiple classes per day, with so many talented peers and teachers was the best part of training at Point Park."
What do you enjoy most about your career?
Lindsey Bracco, ensemble, In the Heights
B.A. in dance, 2006
"I love the ability to create, the opportunity to constantly be learning something new and the discipline. I have been a part of this industry for 11 years, and every show/audition/class teaches me something new personally and professionally. You have to learn patience, rejection, happiness and honesty. I feel proud to have this gift of performing and am a better woman because of this industry."
What advice do you have for current and prospective students?
Michael James, Race, Disney's NEWSIES; ensemble, Mamma Mia!
B.F.A. in musical theatre, dance minor, 2015
"You have to be stronger than the business you are in. Physically, mentally and emotionally. Roll with the punches and be nice to everyone. No one wants to work with someone who is hard to work with. Work hard at Point Park. Come to class prepared. Don't be afraid to love your craft or be proud of the work you put in."
Final thoughts?
Hailie Hagedorn, ensemble, Mamma Mia!
B.F.A. in musical theatre, 2019
"I'm still a student, but I am loving my training at Point Park University. Point Park has shaped my life in ways that I didn't even know it could, and I am so grateful to the incredible faculty and to my peers for supporting me in this journey toward being my best self."
More About: screenwriting, Pittsburgh Playhouse, acting, Conservatory of Performing Arts, success story, dance, theatre, internships, musical theatre, alumni