more news
Get Career-Ready with: Jenna Clover '24, Musical Theatre Major
Student Profile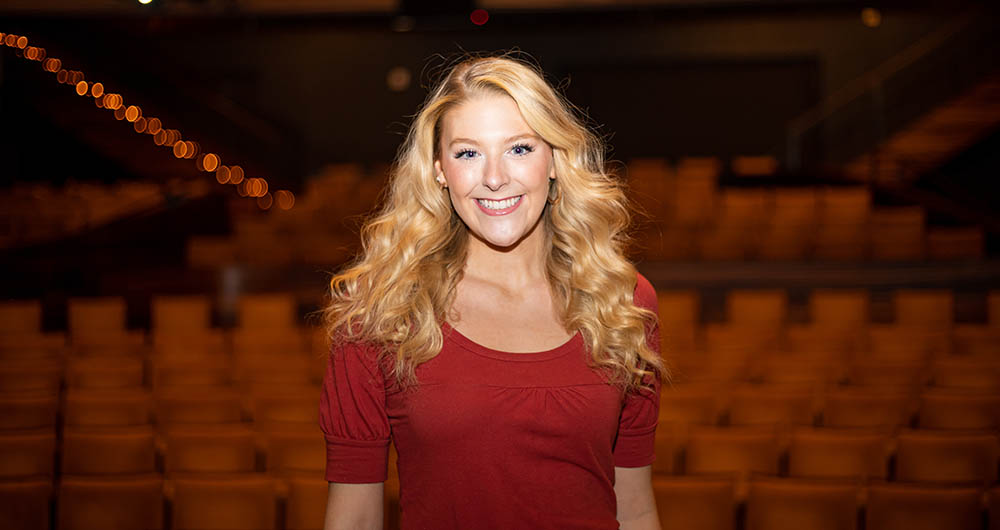 Meet Jenna Clover '24
Major

Musical Theatre

Hometown

Upper Saddle River, N.J.

High School

Immaculate Heart Academy

Dream Job

Perform in a Disney show on Broadway
"I encourage anyone who is interested in majoring in musical theatre to seriously consider Point Park — I have grown in ways I never thought possible."
Jenna Clover '24
Why did you choose Point Park University's musical theatre program?
I chose Point Park's musical theatre program because it was giving me everything I was looking for in all aspects of my training. To make it in this business, you have to be apt at singing, dancing and acting if you want as many opportunities as possible. Point Park does an impeccable job at making sure we can equally focus our attention on all three of these things so we are prepared for the business when we graduate.
I came in struggling with my dancing the most, and getting to work with Point Park's world-renowned dance faculty has allowed me to grow at such a fast pace, more than I believe I would have at any other university.
What's it like training in Point Park University's Pittsburgh Playhouse?
Training in the Pittsburgh Playhouse is definitely my favorite part of my week. I never get tired of walking into our gorgeous studios and getting to do what I love. It feels like I am walking into a professional rehearsal every time I go to class, and that is something I never take for granted. The space you work in is a big part of how you grow as a performer, and I feel that I am extra motivated by being able to work in award-winning theatre and studio spaces that are preparing me for professional theatre.
What do you like about going to school in Downtown Pittsburgh?
I have always dreamed about living in a city, so there are an endless amount of things that I love about the Downtown Pittsburgh area. I have been living in Pittsburgh for three years now, and can still find something new every day. This is so important to me, because I never have to feel stuck or bored on campus. Life is never stagnant Downtown, and there is never a shortage of things to do or places to go. I am definitely a foodie, so I love trying all of the delicious food options. And if you ever feel like venturing outside of the city, there is a great bus system that is super easy to use that can take you to just about anywhere you want to go.
What are your favorite things to do around campus or the city when you're not in class or rehearsals?
There are so many activities and happenings Downtown, one of my favorites being the Market Square Farmers Market on Thursdays. One of my favorite things to do is go between classes because it gives you a little slice of nature with all the fresh produce and flowers, and also allows you to support some of the best small businesses in Pittsburgh.
I also love going to Point State Park, which is about a 10 minute walk from campus. It is right on the edge of the river, so the views are gorgeous and it is a massive park to hang out with friends or get some exercise outside. 
What advice do you have for students auditioning and applying for the musical theatre program?
Be yourself, and prepare as much as possible. If you are as prepared as you can be for every aspect of the audition, it is a lot harder for your nerves to sneak in and possibly mess you up. Preparedness brings calmness, and that will allow your unique self to shine throughout the audition. Being true to your own individuality is something that only you can do, so showcase it. It is easy when we are in a space with actors to compare ourselves to others or try to be more like someone else, but I've learned that it is the most beneficial to lean into what makes you stand out, and the people you are auditioning for will take notice.
Is there anything else you'd like to add?
Majoring in musical theatre at Point Park is extremely rigorous and difficult, but I wouldn't change a thing. I feel that I am extremely well prepared for what to expect in the real world, and I'm most looking forward to showcasing my skills in the industry, rather than feeling unequipped. I encourage anyone who is interested in majoring in musical theatre to seriously consider Point Park — I have grown in ways I never thought possible.
Photo by Madi Fisher '24
More About: Get Career-Ready, Conservatory of Performing Arts, dance, theatre, Pittsburgh Playhouse, musical theatre