more news
Musical Theatre Alumnus Jaron Frand Credits Point Park for Success On Stage
Friday, November 22, 2013
Pictured above are Marvin Hamlisch, who died in 2012, and alumnus Jaron Frand. In 2011, Frand had the chance to work one-on-one with Hamlisch at Point Park, when he served as a Distinguished Master Artist in Residence. After only a year in New York, Frand landed a role in the New York cast of Smile, which features music by Hamlisch.

Meet Jaron Frand
Current role: Actor in Musicals Tonight! revival of Smile
Degree earned: B.F.A. in musical theatre, 2012
Hometown: Pittsburgh, Pa.
Now living in: New York, New York
High School: Pittsburgh CAPA
How did you land your current role after only a year in New York?
It's a funny little story, actually. I ended up taking part in a casting director's workshop. I was able to meet and get to know this casting director, and even do a mock audition for her. A few weeks later, she called me in to audition for Musicals Tonight! and I got the gig.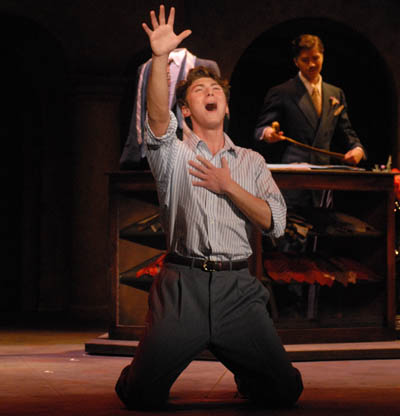 Describe your special connection to this show and the late Marvin Hamlisch?
I worked on this show when I was younger, so I have a little bit of history with Smile. It's a quirky show that isn't produced much. I guess that's why Musicals Tonight! got their hands on it and wanted to revive it. They look for forgotten musicals specifically.
Not only had I been a part of this specific Hamlisch show before, but I recently had the chance to work with him one-on-one. I was really fortunate to be chosen by the Point Park faculty to audition and then work with him as he gave me coaching in a master class setting. It was a part of Point Park's Distinguished Master Artist in Residence in the fall of 2011.
What is one of the most important pieces of advice you learned from Mr. Hamlisch?
He mentioned that everyone gets one big break. It's really how you decide to go after it that counts. This has stayed with me during my first year in New York. For me, I try to treat every opportunity that comes my way as my big break. I really push myself to take charge of my career path and be bold. I don't want to miss out on any opportunities, even if it's just my little break. I think it will all add up someday.
What was it like to be a Point Park student?
I feel really lucky that I was able to be involved in so many of the Conservatory's productions during my time at Point Park. Each of those experiences built up my stamina to keep moving forward in a crazy city like New York.
The teachers in the Conservatory are really incredible. They not only teach technique and foundations in theatre, but they have always been there for the students. During school, they provided me with a lot of support. I still keep in touch with them today.
What advice do you have for a prospective student?
In any industry, it's all about building relationships and staying connected. Even in school, those connections can lead somewhere. I just went into a class expecting to gain some new insight, but I ended up with a job!
Anything else you would like to add?
A career in theatre and film take time to build, in most cases. It's so important to understand that for anyone who jumps into this business. Just keep moving forward.
More About: alumni, success story, master class, musical theatre